Mindy Kaling and Anne Hathaway Renounce Tiny Sunglasses Trend
They're not down with the Matrix look.
---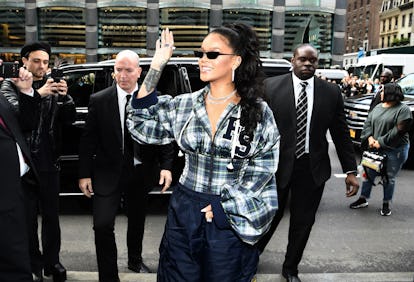 Dimitrios Kambouris
Sorry, Rihanna, Millie Bobby Brown, Bella Hadid, Gigi Hadid, Kaia Gerber, Kendall Jenner, and every other celebrity who has worn the tiny sunglasses trend: Mindy Kaling and Anne Hathaway are over it.
In a recently divisive tweet, Kaling wrote, "I think we will regret this tiny sunglasses look." A bold statement that was then endorsed by fellow Ocean's 8 star Anne Hathaway. Hathaway posted a screenshot of the tweet to Instagram with the caption, "I'll sit this one out with you xx." As if that wasn't a strong enough statement, Kaling doubled down with a joke. "The only person who can pull off tiny sunglasses," she captioned a cartoon picture of Santa Claus, who is indeed wearing chic circular shades.
Coincidentally, there are several tiny sunglasses featured in the trailers and official poster for Ocean's 8 (which hits theaters on June 8). Hathaway's pair feature large, rounded square frames while Kaling's are more aviator-like; Rihanna, who is a big fan of the tiny sunglasses trend IRL, sports a large metal-frame pair in the movie. Perhaps the anti-small frames conspiracy actually started with the Ocean's 8 directors.
Related: Mindy Kaling Had To Lie To Her Ocean's 8 Co-Stars To Keep Her Pregnancy A Secret