Rihanna's New Mystery Man Is Saudi Billionaire Hassan Jameel
At least, if photos of them on an intimate Spain getaway are to be believed.
---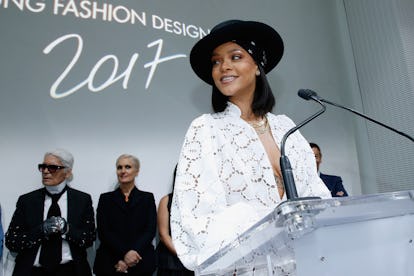 Bertrand Rindoff Petroff/Getty Images
Rihanna might, famously, not be looking for a man, but when she finds one, the internet is bound to track him down. On Monday, the singer was spotted in a pool in a villa in Spain with a then-unidentified man, setting off a cascade of theories by Twitter sleuths the world over. Less than 24 hours later, the latest report indicates the man is none other than Hassan Jameel, a Saudi businessman and heir whose family is Saudi Arabia's main Toyota distributor—with a net worth of $1.5 billion. (Page Six, in typically eloquent fashion, described him as "filthy rich," which is frankly incontestable.)
In the new photos, which were first published by TMZ, Rihanna is pictured cuddling up to a mystery man, reportedly Jameel, two half-empty champagne flutes close at hand. They then dry off and head inside the villa, leaving us to speculate about what it all means, how long they've been together, who he really is, and when she was planning to tell us.
One such speculation: Last summer, Jameel attended a Stevie Wonder concert in London's Hyde Park with the supermodel Naomi Campbell—the same Naomi Campbell who, earlier this year, assured the world on Watch What Happens Live! that she doesn't have "beef" with Rihanna. But as a source told the British tabloid The Sun, Jameel and Rihanna have been "spending a lot of time together away from prying eyes and are really serious." So while Rihanna and her new friend have only just reached the lenses of the paparazzi—and our attention—it's possible this has been going on long enough to cause some tension between supermodel and singer.
An alternate hypothesis: There's really no beef, nothing to see here, move along.
Rihanna was previously attached to Drake, with whom she's had an on-again, off-again relationship that, by all appearances, finally came to an end last October, when Drake devolved back into his sadboy self and Rihanna continued to live her best life, earning honors from Harvard and Parsons alike. Drake moved on to J.Lo, who then moved on to A.Rod; Rihanna, after dating a series of musicians including Drake and the rapper Travis Scott, found herself a billionaire. The status quo is secure.
A Photographic Guide to Everyone Rihanna Has Reportedly Dated
Rihanna began her tumultuous relationship with Chris Brown when she was just 17 years-old, when the two met at the 2005 Vibe Awards. Here, the couple are pictured at the 2007 MTV Video Music Awards.

Getty
In 2008, the pair claimed to be just friends, despite getting close for a performance at Z100's Jingle Ball in 2008 (and plenty of paparazzi photos pointing otherwise).

Getty
Four years after the domestic violence case heard around the world, Rihanna and Chris Brown reunited at the 2013 Grammy Awards before splitting for good.

Getty
In 2007, Rihanna was rumored to be seen out and about with actor Josh Hartnett—a relationship she later denied. The two were photographed together that year, albeit during an appearance on TRL.

Getty
One of Rihanna's few confirmed relationships was with Matt Kemp, outfielder for the Los Angeles Dodgers. The pair dated for just under a year in 2011.

Getty
If the Internet were to have their way, Rihanna would have settled down with Drake long ago. The pair have long been connected, since performing together at the 2011 NBA All-Star game.

Getty
Three years later, the pair were spotted on a rumored date at a Los Angeles Lakers basketball game in April 2014.

Getty
Soon after, Rihanna and Drake got up close and personal for a performance at the 2011 Grammy Awards.

Getty
The duo reunited for a performance of their song "Work" at the BRIT Awards 2016 at The O2 Arena on February 24, 2016 in London, England.

Getty
A few months later, Drake would present the singer with the Michael Jackson Video Vanguard Award at the 2016 MTV Video Music Awards, where he would announce he's been in love with her for many years.

Getty
Rihanna was spotted with race-car driver Lewis Hamilton at several events, including the the 2014 British Fashion Awards, but Hamilton claimed the two were just friends.

David M. Benett
Drake isn't her only co-performer that Rihanna's been rumored to also have a romantic tie with. Following their own performance at the Video Music Awards in 2012, it was thought that the singer was dating A$AP Rocky.

Getty
Another rumored, never confirmed conquest of Rihanna? Justin Timberlake. The two were seen together at the 2014 amfAR LA Inspiration Gala honoring Tom Ford, where they both attended as a guest of the designer.

Getty
Rihanna reportedly spent a good deal of 2015 dating Travis Scott. The two were spotted with mutual friend Kanye West at the Vogue 95th Anniversary Party in October of that year.

Getty
And just the day before, the pair took in the French Ligue 1 match between Paris Saint-Germain FC and Olympique de Marseille at Parc des Princes stadium.

Getty
Just last year, Rihanna was thought to be dating none other than Leonardo DiCaprio, as they were spotted together at Coachella.

Getty
Nicole Kidman could go on Survivor and crush it: