Rihanna Hangs Off a Skyscraper in Kendrick Lamar's "Loyalty" Video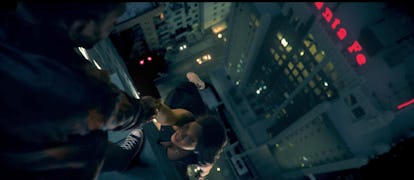 Considering how often we've seen Rihanna literally kill men in her music video, it's almost a bit jarring to sit back and let a man—in this case, Kendrick Lamar—do the dirty work for her. Of course, the track, "Loyalty," belongs to Kendrick and just features Rihanna. She, still, of course, takes up a lot of the video.
First popping up at about the minute mark dressed like Trina during her Diamond Princess era (or, if you need a less niche reference,'80s Sunset Strip street walker meets Paris Hilton's early '00s going out wardrobe), Rihanna bends down into a man's car, lures him out, and then watches as Kendrick beats him up.
The pair then wind up on the top of a building where Kendrick then casually dangles Rihanna over the side, underscoring the titular theme, "loyalty."
The real headline moment comes during the last 30 seconds. We won't spoil it, but it might give you a mild heart attack.
Yeah, the surprise had nothing to do with those asphalt swimming street sharks.
"Loyalty" is the third single off of Lamar's critically acclaimed album, DAMN, and marks the first collaboration between the pair.
Though Rihanna herself hasn't put out a single of her own since 2016's "Love on the Brain," she's certainly not been absent on either the radio nor your Vevo queue this year. She's also pretty much the biggest reason DJ Khaled's "Wild Thoughts" is even in the "song of the summer" discussion.
Related: Rihanna Met with French President Emmanuel Macron to Talk Global and Girls' Education Funding
See What's Trending on W Video: