Rihanna Met with French President Emmanuel Macron to Talk Global and Girls' Education Funding
Tweeting at the world's leaders definitely seems to have been effective.
---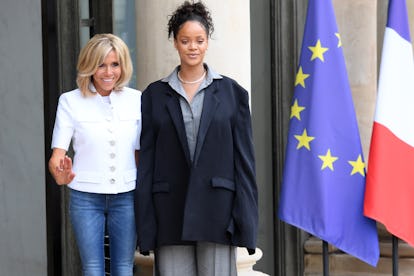 Christophe ArchambaultHRISTOPHE ARCHAMBAULT
If there's one thing we now know about Rihanna, it's that she makes good at her Twitter promises. Take the time earlier this year, when she publicly joked on Twitter about making a movie with Lupita Nyong'o; the idea found so much success, it went from a meme to a Netflix movie that's currently in the making, to be directed by Ava DuVernay.
Then, about a month later, Rihanna started casually tweeting at the world's most powerful leaders, asking them to commit to funding education in developing countries. And while that's not exactly a surprise, given that she became the global ambassador to the Global Partnership for Education last fall, she made sure to do it in true Rihanna style, throwing in emojis and terms like "hey there" with Argentina's President Mauricio Macri, Canada's Prime Minister Justin Trudeau, France's President Emmanuel Macron, and Germany's spokesman for the Federal Government Steffen Seibert.
Some politicians responded to Rihanna's request to #FundEducation—Trudeau replied, "we've got your back!"—which, for any armchair activist, would definitely be mission accomplished. But this is Rihanna, aka Harvard's Humanitarian of the Year, and true to her word, she interrupted her current worldwide princess gown red carpet tour for her film Valerian to stop by the Elysée Palace in Paris on Wednesday and meet with French president Emmanuel Macron, as well as his wife, first lady Brigitte Macron.
It's been a busy week for the president—on Monday, he also met with U2's Bono to discuss the refugee crisis—but Macron had already invited Rihanna over to discuss France's approach to funding international education after she tweeted at him in May, starting with a friendly "bonjour." Grinning, she told reporters after their meeting that the Macrons were "incredibly welcoming," and she had "just had the most incredible meeting with the president of France and First Lady."
"We focused on the topic of education from global aspects," she said. "I was so inspired and impressed with his leadership. I can't wait to see where this is going to go, but I think this is the year for education."
She also told reporters to "stay tuned," after alluding to a "big announcement" come September, and "even more work in Africa in October."
Argentina's Macri and Germany's Seibert,, not to mention the rest of the G20 leaders Rihanna is targeting, better start responding to her tweets soon; it's not just RiRi who's waiting, but the 264 million children and teens around the world who are currently out of school.
Related: Rihanna's Tweeting at World Leaders Asking Them to Fund Education
Joan Smalls and More Models Discuss Their Crushes on Rihanna: