Rihanna's Met Gala Look Instantly Inspired Instagram's Best Artists
Statistics and fan art don't lie.
---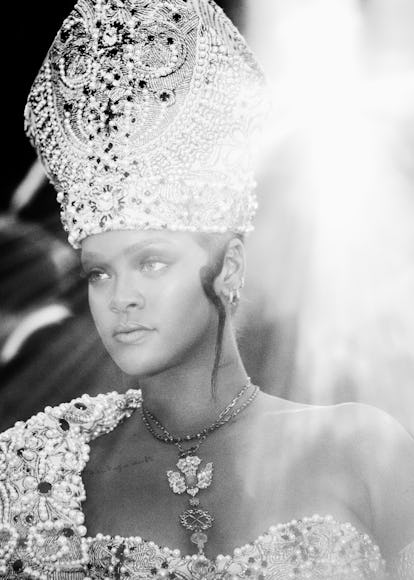 Benedict Evans
If Rihanna's 2018 Met Gala look has been gracing all of your social media feeds over the past 24 hours then you can already guess who officially won this year's soirée. Conceptually, stylistically, and now statistically, Bad Gal RiRi was once again the highlight of the Met Gala. Out of all of the celebrities who attended, Rihanna had the most engaging Instagram post of the night, according to social media firm Talkwalker. (The photo she posted of her pearl-laden, pope-inspired Maison Margiela ensemble by John Galliano has amassed over two million likes just over the past 12 hours.) As it turns out, though, Rihanna also inspired the best fan art of the evening.
While it took Galliano's team "250 hours to sew and 500 hours to hand-embroider," according to a statement from Margiela, it took hours for Rihanna's fans to turn around some of their artistic interpretations of the already iconic look. One rendition, created by Jovan Rosario, popped up on social media after the artist spent all evening on it. ("Work, work, work, work, work, work," to quote Rihanna.) "Six hours straight and it was all worth it! ⛪️," wrote Rosario on Instagram, where he posted it.
Digital artist Yung Jake also quickly churned out a piece of Rihanna-inspired artwork. "Pope RiRi," he captioned his piece, which—like his most well-known work—consists of hundred of emojis that make up a photorealist portrait, à la Chuck Close. "I think of the art just as life and the things I do are all just part of it," Yung Jake told The New York Times of his approach last summer, adding, "I just happened to be good at it, so I did a bunch of celebrities."
Meanwhile, other artists took as much inspiration from the Met Gala theme, "Heavenly Bodies: Fashion and the Catholic Imagination," as Rihanna, who cohosted the event in a dress, coat, and pope hat with an impressive feat of balance. ("My train is glued to my head; I can't stop!" she said on the red carpet.) "The Nu Rihligion," CITIZINS captioned its take.
Some went in a more minimal direction.
The most beautiful thing about all of Rihanna's Met Gala–inspired fan art, though, is the variety of interpretations, many of which you can see below.
Related: Met Gala 2018: A Minute-by-Minute Breakdown of Everything You Missed on the Red Carpet and Beyond