A False Security Alarm at Rihanna's House Brought Out a Fleet of Cops
The LAPD (accidentally) proved it's not messing around with protecting the international treasure.
---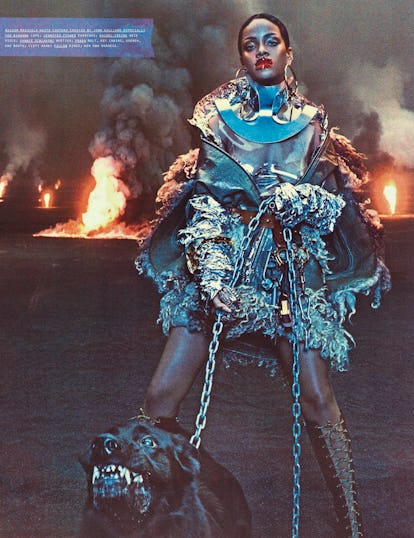 Photographs by Steven Klein, styled by Edward Enninful; W Magazine September 2016.
Normally, an overeager, heavily armed police force ready to show up at a moment's notice is much more of a cause for alarm than a means to put the public at ease. Most things concerning Rihanna, however, are not normal, and it was surprisingly somewhat reassuring that on Monday, the Los Angeles Police Department made it clear they were not about to risk any damage to the city's resident international treasure when they swarmed her six bedroom, $6.5 million home in the Hollywood Hills, responding to her security alarm as if straight out of an amped-up scene from Ocean's 8.
Alas, it was only after a helicopter was hovering overhead and a fleet of cars had assembled with their sirens outside that it turned out to have been triggered by accident. Rihanna, it turned out, wasn't even home. Nor were any intruders—unless you're counting all the cops.
And while entirely unnecessarily, not to mention confusion-inducing—as TMZ captured above, at least one person posted from the scene of the, um, not-crime, with the caption "Rihannas pad being raided or what"—the hoopla did, on the other hand, make it clear that Rihanna's safety is much less at risk than it was even just a few months ago. This past May, a 26-year-old man reportedly somehow managed to break into and actually spend the night in her home, which she wasn't in at the time, either, before attracting the police's notice. (He was later arrested, and eventually charged with burglary and felony stalking.)
If she's relieved, Rihanna, who also has a $22 million mansion in Barbados, at least hasn't expressed so publicly. She is, after all, built to withstand the apocalypse—not to mention a bit busy at the moment, with putting in some entirely unbothered time at the beach.
Related: Rihanna Has A Perfectly Reasonable Explanation For Always Stealing Wineglasses From Restaurants