Rihanna Asks the U.K., France, and Australia to Pledge Millions for Children's Education in Developing Nations
She's attending the Global Partnership for Education conference in Senegal.
---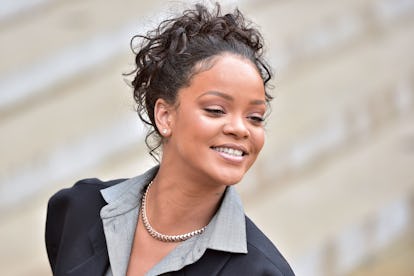 Getty Images
Rihanna wears many hats: She's a Grammy-winning musician, an incredibly successful makeup mogul and fashion designer, and, perhaps most importantly, a champion for children's education. On Thursday, she donned her fundraising cap and, in a series of tweets, put public pressure on world leaders to put their money where their mouths are and pledge millions of dollars in funding for children's education in developing countries. The tweets came a day before Rihanna is set to meet with said leaders at the Global Partnership for Education conference in Senegal on Friday, where the organization is hoping to secure $3.1 billion to fund schooling for 870 million children in some of the world's poorest nations.
"Merci @emmanuelmacron for stepping up to cohost @GPforEducation's Financing Conference in Dakar! Will France pledge €250M for @GPforEducation tomorrow?" Rihanna, a global ambassador for the Global Partnership for Education since 2016, wrote to French President Emmanuel Macron, asking for approximately $311,310,000 from the conference's cohost. She followed this challenge with one to Australian Prime Minister Malcolm Turnbull and Minister for Foreign Affairs Julie Bishop, suggesting they donate about $158,806,000. "Hi @JulieBishopMP & @TurnbullMalcolm will you step up w/ [an Australian] $200M pledge to #FundEducation at the @GPforEducation conference in Senegal tomorrow? Kick off your [first] year on the #HumanRightsCouncil by giving the universal human right to education!" she wrote. Finally, Rihanna called on British Prime Minister Theresa May and Secretary of State for International Development Penny Mordaunt for help. "Hello @theresa_may and @PennyMordaunt, please continue to prioritize girls' education and be a top funder of @GPforEducation. Will @DFID_UK make a historic commitment of £380M to #FundEducation tomorrow?" she tweeted, asking for nearly $537,780,000 from the U.K.
Though the French, Australian, and British leaders have yet to respond publicly to Rihanna, Norway's Prime Minister was clearly moved by Rihanna's prodding. In January, the Fenty Beauty founder tweeted at Erna Solberg about the upcoming conference. "@erna_solberg #throwback to [one] year ago when we talked about how important it is to #FundEducation. Now it's time…Will [Norway] lead in Senegal on 2/2/18 with a $375M USD pledge to @GPforEducation?" she tweeted, alongside a photo of her and Solberg. The PM responded a day later, writing, "Thanks @rihanna! My new development minister @nikolaiastrup will bring good news to [West Africa]. If the G7 give as much as [Norway] per capita, the problem is fixed and every kid can go to school!"
Additionally, in a statement released on Friday, Australia's Julie Bishop announced that her government had pledged AUD $90 million (about $71,366,400) to the Global Partnership for Education—less than half of Rihanna's suggested donation but, of course, no small amount.
Rihanna was announced as the Global Partnership for Education's first-ever global ambassador in September 2016, when her own Clara Lionel Foundation partnered with the organization to secure funding for education for children in need. "I feel strongly that all children everywhere should be afforded the opportunity of a quality education. Therefore I'm proud to announce Clara Lionel Foundation's partnership with education advocacy leaders like the Global Partnership for Education and Global Citizen. Working together, I know we can amplify our efforts and ensure that millions of children gain access to education globally," she said in a statement at the time.