Rihanna, Like You, Can't Get Enough Vanderpump Rules
But is she Team Stassi or Jax?
---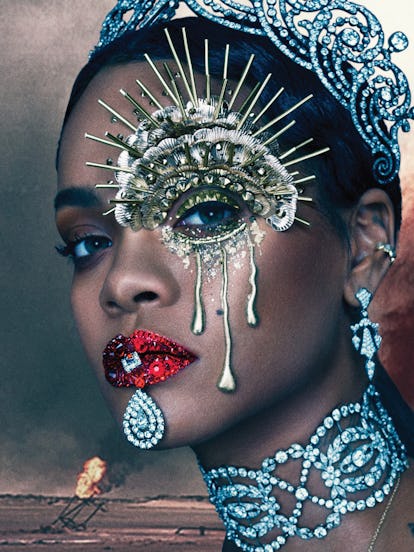 Photographs by Steven Klein, styled by Edward Enninful; W Magazine September 2016.
There are plenty of things that separate Rihanna from us, the mortals: She can pull off pretty much any fashion ensemble, she's allowed to carry full wine glasses out of restaurants, and, you know, she's Rihanna. But when she's not performing at sold-out stadiums or partying with her A-list friends, it would seem that even Rihanna can get down with your average American's favorite Monday evening activity: watching Vanderpump Rules.
On Tuesday night, the singer, presumably catching up on her DVR while enjoying a quiet night in, took to Instagram to post a recording of her flat-screen TV playing a clip from this week's episode. The scene: Tom Schwartz, the affable former male model turned would-be cocktail bar entrepreneur (not to be confused with Tom Sandoval, also a former male model turned would-be cocktail bar entrepreneur, but decidedly less affable), contemplating his life after a wild night out in Mexico. Queue the flashback montage of many, many tequila shots: "easily the best clip on tv ? whoever edited this…we're besties in my head. #vanderpumprules," Rihanna captioned the clip.
For those who choose to spend their Monday nights reading or something, the gist of the show is this: A bunch of attractive twenty-somethings (or, in its sixth season now, thirtysomethings) with names like Stassi and Jax work as bartenders and servers at SUR Restaurant (SUR stands for Sexy Unique Restaurant, so technically the name is Sexy Unique Restaurant Restaurant, but let's not dwell on that) and have pretty much all slept with each other at one point, and thus, drama ensues. The show started as a spin-off of The Real Housewives of Beverly Hills, but has slowly eclipsed the original as Bravo's fan favorite show.
Rihanna is hardly the first celebrity to make her love of the program public knowledge. Chrissy Teigen frequently tweets about the gang, while Jennifer Lawrence talks about how much she loves the show at basically every opportunity—so much so that she unwittingly got herself into a one-sided feud with cast member Lala Kent.
But this is Rihanna, so many of the cast predictably freaked out upon seeing the post. Schwartz himself commented with a string of emojis, while Kent re-posted the clip with the caption: "Shout out to my squad. We may be a hot mess, but fuck it… @badgalriri is watching us be a hot mess, so I'm cool with it."
It all certainly begs the question: Who is her favorite cast member? Is it Stassi, arguably the show's lead and perhaps most well-known character? DJ James Kennedy, the British musician who declared himself "the white Kanye West"? Or maybe Peter, the restaurant's manager, who can't seem to get himself to series regular status, but always seem to be around? All solid options, but our money's on Kent. For some reason, we have a feeling that the instant meme-worthy reveal that she drinks warm milk out of a bottle before bed every night would really resonate with Riri.
Related: Rihanna Courtside at a Basketball Game Is Rihanna At Her Best