Robert Pattinson and Suki Waterhouse's Undefined Relationship Is Still Going Strong
They were just spotted hitting the club.
---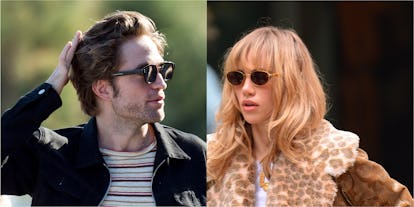 Juan Naharro Gimenez/WireImage/Robert Kamau/GC Images
Robert Pattinson and Suki Waterhouse are as private as it gets about their personal lives, which only makes the internet's collective attempts to decode their relationship status all the more fervent. Last night, the pair were photographed leaving the London hotspot Chiltern Firehouse, sparking more speculation about what's going on between the actors.
The photos don't show much, other than Pattinson and Waterhouse trying as much as possible to shield themselves—with Pattinson's hat and Waterhouse's coat—as they got into a car together. There's no hand-holding or kissing, as they were photographed doing back in late July. There is only the piece of information that the two are still enjoying spending time together and riding home from clubs in the same car.
While Pattinson and Waterhouse have yet to issue any kind of statements about the speculation on their potential relationship, that hasn't stopped various sources from coming forward with their own updates. "Rob is having fun right now and has definitely moved on from his relationship with FKA Twigs," one told E! News back in July. "He isn't looking for anything serious right now." The person added, "Rob likes to have fun when he has breaks in-between filming, and he and Suki have a great time together."
The closest Pattinson has come to talking about his dating life in recent memory was last year when he responded to a question about when he and FKA Twigs, his ex, were getting married with an "eh." In the same interview with GQ, Pattinson talked about why he doesn't talk about his private life more, saying, "I always think the risk reward is very much weighted in the wrong direction. If I could stay silent, I would."
There's also the fear that if he were more open, then he wouldn't be as much of a mystery, as he revealed. "I want to be misunderstood," he said. "People are always changing, and the more you put something down in print, people form opinions and they're constantly creating who they think you are. If you do something that contradicts that, or if you do something that goes out of that box, then you can look like a liar or something like that."