Rodarte Is Now Designing for Barbie
Catch the Rodarte x Barbie looks on Instagram.
---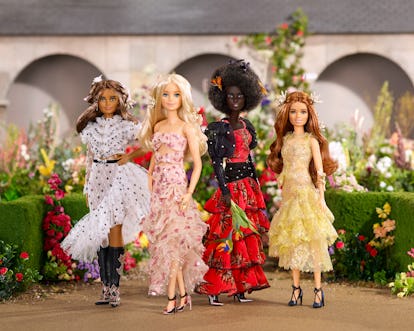 The list of Rodarte's red carpet muses is extensive and littered with Academy Award winners; there's Natalie Portman, Brie Larson, Kirsten Dunst, Tessa Thompson, and so many others. And today, there's officially a new name—one sans Oscar gold, but no less lauded—to add among the ranks: Barbie.
Designers Kate and Laura Mulleavy are the latest designers to partner with the Instagram account @BarbieStyle to create one-of-a-kind Barbie dolls wearing designs from their Spring 2018 collection. "We were very excited as we have always loved Barbie," said Kate Mulleavy. Added Laura, "We always loved all of her accessories, especially her shoes. We played with the dolls [growing up] and made fashion collections for them all the time! We even created runway shows with our Barbie dolls."
For the partnership, the sisters adapted four different designs from the spring couture collection that was shown in Paris in June 2017. "We thought it would be fun to pick styles from our Paris Spring 2018 couture show," said Kate. " We then worked with the Mattel team to choose looks and fabrications that would translate in doll scale. In all honesty, there was not much limitation!" Notably, the dolls modeling the outfits vary beyond your typical blonde-haired, blue-eyed girl, including multiple body types and skin colors, which were introduced in 2016.
The designs, debuting Wednesday, will live on @BarbieStyle's Instagram account, which was created in 2014 to "celebrate Barbie as global icon in the digital age" and currently boasts 1.9 million followers (among them: Gigi Hadid, Paris Hilton, and the Guggenheim Museum). With the launch, Rodarte joins a long list of designers who have collaborated with Barbie, including Karl Lagerfeld, Moschino, Oscar de la Renta, and Tommy Hilfiger. For now, the dolls are one-of-a-kind—read: not available for purchase—so if you're looking for a Rodarte dress in doll form, best to make like a Mulleavy and design one for yourself for now.