Heath Ledger Remembered By Rose Byrne With a Photo Tribute on Instagram
The pair started out together 20 years ago.
---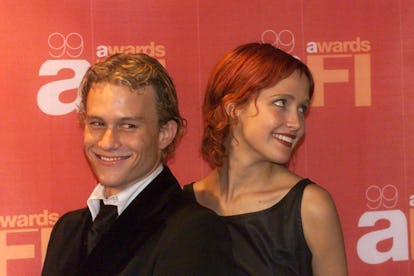 Danielle Smith/Getty Images
Heath Ledger's tragic death was 10 years ago, but the actor's legacy is still being discussed as much today as it was then. This past week, his former partner Michelle Williams, whom he shared one child with — Matilda, now 12 years old — gave a rare interview about Ledger. Now, his former cast mate Rose Byrne has shared her memory of the late actor.
Byrne only joined Instagram at the top of July, but one of her few posts — uploaded today — is a tribute to Ledger. Posting a throwback photo from the set of their 1999 Australian crime film Two Hands, Byrne reflected on their friendship. "Twenty years ago!," she wrote. "Two Hands! Aussie kids on their first film. My own vintage polyester frock for $18. Just bleached my hair in kitchen sink. Heath trying to be serious ? goofball ?."
Byrne recently spoke about their friendship, which she described as "a really seminal part of my life," in the wake of this year's documentary, I Am Heath Ledger. "He was a goof," she told People. "He was such a goofy, funny, you know, adorable guy. He was incredibly generous. He had a huge heart. He was kind of, actually, really shy… We met each other when we were 18. We were kids. [He had a] kinetic energy. He was nonstop. I adored spending time with him."
Byrne confirmed that, earlier this year, when giving a statement about her role as a judge for Australians in Film's Heath Ledger Scholarship. "Heath and I met as young 18 year old actors in Sydney on Two Hands," she said. "He supported me so much in LA with his lovely spirit, always giving me a place to stay, always getting me into rooms to audition. I'm delighted to be part of a scholarship that honours this generosity, by giving young actors an opportunity to begin and build their careers. I'm thrilled to be working with the HLS team to help keep his legacy alive, for this special 10 year anniversary."
Ledger's ex Williams has also talked about Ledger's generosity and warmth, telling Vanity Fair, "I never gave up on love. I always say to Matilda, 'Your dad loved me before anybody thought I was talented, or pretty, or had nice clothes.'"
Related: Naomi Watts Wrote a Moving Tribute to Heath Ledger on the Anniversary of His Death