Rose McGowan Speaks Out Against Meryl Streep And the Plan For Actresses To Wear Black To Golden Globes
She called Meryl Streep a hypocrite on Twitter.
---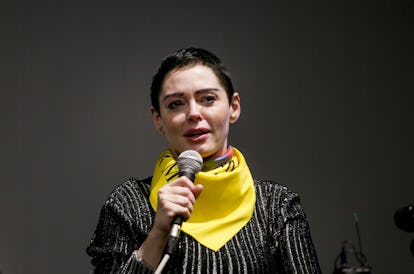 Photographer: Anthony Lanzilote/Bloomberg via Getty Images
As previously reported, many A-list actresses are possibly planning to dress in all-black to the upcoming Golden Globe awards in a show of solidarity for victims of sexual harassment and as a silent protest against the entertainment industry's many predators. Rose McGowan, one of the most prominent voices speaking out against harassment and one of the first actresses to go on record against disgraced producer Harvey Weinstein is apparently unimpressed with this plan, and she took to twitter to call out Meryl Streep in particular.
"Actresses, like Meryl Streep, who happily worked for The Pig Monster, are wearing black @GoldenGlobes in a silent protest. YOUR SILENCE is THE problem. You'll accept a fake award breathlessly & affect no real change. I despise your hypocrisy. Maybe you should all wear Marchesa," she wrote, citing the fashion brand designed by Weinstein's now-estranged wife Georgina Chapman.
Streep previously denied having any previous knowledge of wrongdoing on Weinstein's part and condemned his behavior, but McGowan's tweet seems to insinuate that she wants Streep, one of the few actresses working today with a truly untouchable career, to be a louder voice for women.
it's an incredibly difficult situation to know how to handle. In just a matter of weeks, actresses who might not have any particular knowledge on the subject are suddenly expected to be experts on sexual harassment and world-class advocates. Should the Globes simply be cancelled to reflect Hollywood's failings, or is it unfair to punish innocent artists for the sins of others in their industry? Some have suggested that actresses boycott the ceremony, to be hosted by Seth Meyers, in protest, but is removing women from the spotlight the best way to advocate for women? Or is it powerful to show what a red carpet looks like without the women our society takes for granted? is wearing black—already a popular choice any given year—really the most they can do, or is it a smart and subtle way to keep the attention and conversation focused on the issue on a night when many would probably rather gloss over it?
The awards are set to air on January 7, 2018, so until then, all that remains to be seen—and heavily debated.
Related: Rose McGowan Calls Out Alyssa Milano For Defending Friend Georgina Chapman