Rose McGowan Calls Out Alyssa Milano For Defending Friend Georgina Chapman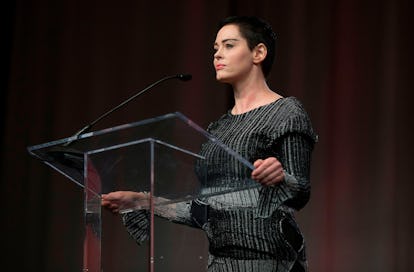 Photo credit should read RENA LAVERTY/AFP/Getty Images
Rose McGowan is calling out her former Charmed co-star Alyssa Milano for standing by Harvey Weinstein's estranged wife Georgina Chapman in the wake of the Weinstein harassment and assault scandal (Chapman announced that she would leave Weinstein shortly after the publication of the features on his misconduct in the New Yorker and New York Times).
On Wednesday, December 6, Milano appeared on the Today show (a program with its own share of problems) to talk about how Chapman, the designer behind ultra-feminine line Marchesa and mother of Weinstein's children, is doing. "Georgina is…an amazing woman, and I think her priority right now is focusing on how to raise those two children to the best of her capacity given the situation…This is not easy for her, but I have no doubt that not only will she come out on the other side of this, but she deserves to. She's a good woman," said Milano, per The Daily Beast.
However, this sentiment didn't sit well with McGowan, who was herself victimized by Weinstein. "You make me want to vomit. You actually gave me a body flashback. Well done, fake one," she tweeted on December 8, sharing an article about Milano and Chapman.
Later that day, Mcgowan compared Chapman to accused serial rapist Bill Cosby's wife Camille in a tweet addressed to Milano:
McGowan also retweeted a claim that Chapman's marriage to Weinstein was essentially a business venture, that she knew about and was therefore complicit in his abuse, and that Weinstein's money built Marchesa:
It's true that Project Runway, produced by The Weinstein Company, helped elevate the level of public consciousness about Marchesa. Chapman has been a judge for every season of the spin-off show Project Runway: All Stars, which for the past three seasons has been hosted by Milano. So it's not inconceivable that there's a conflict of interest or at least a complicated backstory, when Milano speaks about Chapman. It's also been rumored for years that Weinstein pressured actresses he was working with to wear Marchesa designs on the red carpet, though that claim has never been proven.
McGowan also took Meryl Streep to task for not speaking out more strongly against what Weinstein is accused of.
Related: Rose McGowan Is Publishing a Tell-All Memoir About Growing Up in Two Cults (One of Them Is Hollywood)
Dior Haute Couture's silk embroidered ensemble. Saint Vintage brass and vintage Czech glass bead necklace (in hair); David Yurman 18k yellow gold and pearl necklace.
Western Costume Company's lace and silk brocade dress. Mastoloni 18k white gold, cultured pearl, and diamond bracelets.
Dior Haute Couture's silk chiffon embroidered dress. Mastoloni 18k white gold, cultured pearl, and diamond bracelets; vintage Manolo Blahnik shoes.

Francesco Vezzolli
Vera Wang's garza and French tulle ballgown.
Director of Photography: Pasquale Abbattista. Artistic Producer: Luca Corbetta. Hair by Terrence Davidson for I.A.T. Talent Management; Manicure by Honey at Exposure NY. Production By Max Brun With Art + Vibes (Hi! Production Group); Set Design by Stefan Beckman at Exposure NY; Stool by L'antiquaire & the Connoisseur Inc. All Clothing Customized By Alberta Roc At Christy Rilling Studio. Digital capture & retouch by Digitalarea.Eu. Photography Assistant: Luca Galvagni. Fashion Assistants: Felicia Garcia-Rivera and Laura Jones.
Nicki Minaj by Francesco Vezzoli for W's November 2011 cover.
Director of photography: Pasquale Abbattista. Styled by Edward Enninful. Hair by Terrence Davidson at I.A.T. Management; makeup by Aaron de Mey for Lancôme at Art Partner; manicure by Honey at Exposure NY; set design by Stefan Beckman at Exposure NY. Fashion: Dior Haute Couture's silk chiffon embroidered dress. Mastoloni 18k white gold, cultured pearl, and diamond bracelets (worn on both wrists). Beauty: MAC Matchmaster Foundation SPF 15 in 7.5; This & That Mineralize Eye Shadow; Going for Gold Technakohl Eye-Liner Kajal; Haute & Naughty Lash mascara in Black; Cremesheen lipstick in Spice Is Nice. Special thanks to Pascal Dangin.