15-Year-Old Rowan Blanchard Has Announced Her First Book
The continuously ambitious teenager announced her latest project on Instagram.
---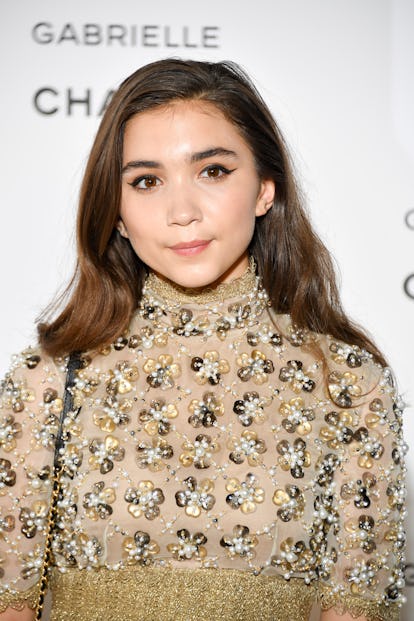 Stephane Cardinale – Corbis
At 15-years-old, Rowan Blanchard has accomplished the following things: led a hit Disney Channel series; co-starred in a number of popular big screen films; spoken at the U.N. Women and U.S. National Committee's annual conference; acted as an activist and inspiring figure for the Twitter generation.
But apparently that is not enough. Today, Blanchard took to Instagram to announc her latest project: an art book called "Still Here," due out early next year. "OKAY HERE WE GO!!!! For the past three years, I have been making, collecting, and editing various artworks, made by myself and my insanely talented friends (most of which I met thru the internet :D) into an art book with @penguinrandomhouse @razorbillbooks," the actress wrote in her caption. "I am so overwhelmed and excited and nervous to present to you guys the cover for STILL HERE, coming to you early next year. this is so surreal and is what I have been up to at 1 in the morning alone in my bedroom for the past few years! Ok this is insane! Link in my bio if you want to know more! Ok I love teenagers so much this is for you!! Ok bye I am freaking out!"
The teen also previewed what is presumably the cover of her book: a purple pebbled leather swatch with a dandelion scotch-taped over the title, and Blanchard's name written in all capital letters below. The actress's 5.1 million followers immediately took to the comments to show their excitement over the new project, including Sarah Sophie Flicker who wrote, "Brava!!!!!"
The unlikely pair met just this summer at the 2017 CFDA Awards, moments before Blanchard met her own personal hero, Gloria Steinem. "My heart is racing so fast right now," Blanchard told W immediately following the exchange. Perhaps that initial meeting has forayed itself into a guest passage by the feminist icon in Blanchard's new book?
That remains to be seen, as with the rest of the details of the book. Before it launches, Blanchard has another milestone to get to: her sweet 16th birthday.
Related: All the Inside Gossip, Drama and Tears from the 2017 CFDA Awards, the Oscars of Fashion
Kiernan Shipka, Willow Smith, and Zendaya Reveal Their Crushes