Prince William Says He Is Still "Working On" a Name for Royal Baby Number Three
Some think it could be Prince Albert.
---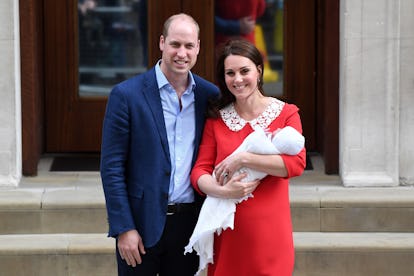 Samir Hussein/WireImage/Getty Images
Since Kate Middleton gave birth to her third child with Prince William on Monday, the international public has been clamoring to figure out what the newborn royal baby will be named. Though there has been official speculation that the prince will receive the title of either Albert or Arthur, the Duke and Duchess of Cambridge have been mum on his moniker — until now. While arriving at the opening of the Greenhouse Centre in London with Prince Harry, Prince William responded to a reporter's direct question about the name. "I'm working on it, I'm working on it," he said. Sounds like Wills is just as stressed as the rest of us.
Despite all the secrecy, there may have been a big break in the Mystery of the Unnamed Prince on Thursday. Some eager code-crackers over at The Daily Mail may have found a secret landing page on the royal family's website reserved for a Prince Albert. Though this seems like it could be the strongest evidence yet to support Team Albert, there is an existing member of the royal family, Queen Victoria's husband, with the same name. It seems impossible to tell if the secret site is reserved for a younger Albert, or merely a duplicate link for the one who lived in the 1800s.
There's also the mater that the term "Prince Albert" is associated with a brand of American tobacco, a classic prank call format, and a rather delicate piercing. There's already a lot of baggage with the moniker. Whatever the case, if they do have the name already in the can, we would appreciate if they let it out.
Until we get the official word from William and Kate themselves, the public will just have to keep speculating about the new addition to the royal family. But luckily, Prince William offered up some other news on Thursday to keep us busy: The 35-year-old responded to the official news that he will serve as Prince Harry's best man at the royal wedding next month. As for his speech, William simply revealed, "Revenge is sweet." Let's hope baby Albert (or whatever his name will be!) makes an appearance during the toast.
Related: The Royal Birth: All the Crazy Things That Happened Outside the Hospital