Why Bella Hadid And Kaia Gerber Are Completely Obsessed With Ruslan Baginskiy Hats
Ukrainian milliner Ruslan Baginskiy's "baker boy" cap is the hottest thing to come out of international fashion week.
---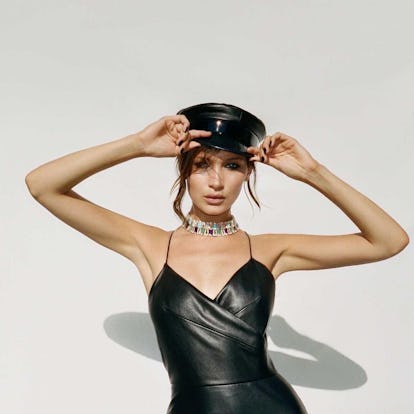 It is both a reflection of our times and a testament to the cult of celebrity, that a single post from a Hadid can completely change the path of a designer. This is precisely what happened to Ukrainian milliner Ruslan Baginsky after he sent twenty hats to an editorial shoot featuring Bella Hadid three months ago. Twenty-four hours later, his namesake hat line had gone viral. "I woke up feeling famous," recalled the Kiev-based designer. "On the day of the shoot, Bella took a photo in the hat and posted it on Instagram. Then she did three more posts with our hat, and afterwards her stylist, Elizabeth Sulcer, posted photos of herself in them as well."
Since then, the hat, which he has coined "the baker boy cap," has been the hot-ticket item at both New York and Paris Fashion Week, and was recently worn by the likes of Elsa Hosk, Kourtney Kardashian, Irina Shayk, Anna Della Russo, Sofia Richie and Kaia Gerber, the latter of whom has worn it almost nightly as the finishing touch to top off her looks.
Baginskiy, who launched his namesake line three years ago with classic felt fedoras, was inspired to create the baker boy cap after seeing conductors on a train ride he took in Paris a year ago. Since then, he's made over twenty different styles, with a core collection of red, grey, and black. The crowd favorite (Cue: Bella, Elsa, and Kaia) is an all leather one, which he can barely keep in stock. "They sell out the moment they hit stores," he said. The caps also come in materials such as wool and suede, which he sources locally in the Ukraine. In true Vetements style, the designer does not submit to the fashion week schedule, and releases caps whenever he feels inspired. His most recent collection, which hit stores this month, was inspired by the color palette of Georgian mountains, such as earth tones like deep olive greens and browns.
In April he'll launch a special edition baker boy cap with Chloe Bartoli, Richie's stylist, and has stylists requesting daily. As for who's next to don a Ruslan Baginskiy design? "There are a lot of people in the works, but we never say anything until they wear it!"
Related: Exclusive: Get to Know the Designer of Gigi Hadid's New Go-To Bag
Bella Hadid, a Bubble Bath, and Jenga: What More Could You Want?
Exclusive: Kendall Jenner Proves Her Skills as a Photographer with Backstage Images from Paris Haute Couture
Putting the finishing touches on Bella Hadid, backstage at the Miu Miu resort presentation.

Photographs by Kendall Jenner
Joan Smalls and Lara Stone (from left) chatting at Miu Miu.

Photographs by Kendall Jenner
Photographs by Kendall Jenner
The lineup at Fendi Haute Fourrure.

Photographs by Kendall Jenner
Karlie Kloss getting curls for a shoot with Mario Testino.

Photographs by Kendall Jenner
Last calls before the Fendi show.

Photographs by Kendall Jenner
Photographs by Kendall Jenner
Photographs by Kendall Jenner