Cindy Crawford, Ultimate Fashion Week Mom, Talks Kaia Gerber's Big Week and Her New Denim Collaboration
The model celebrated her new Re/Done collaboration on during New York Fashion Week.
---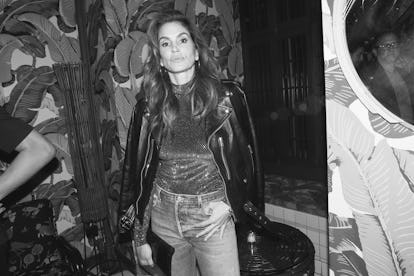 If there is one story that has dominated the news cycle of New York Fashion Week, it might be Kaia Gerber's rapid ascent to runway stardom. Fresh off her sweet sixteenth birthday, the burgeoning model has already walked for Calvin Klein, Coach, Alexander Wang, and Fenty Puma—quite the roster for her first season. Meanwhile, her brother Presley Gerber isn't doing too shabby himself, making appearances at Ralph Lauren and Zadig & Voltaire. Their mom Cindy Crawford certainly has reason to be proud. "It is just super fun for me to watch my kids enter into this world," Crawford said of her fashion week highlights.
On Tuesday night, the supermodel took a break from cheerleading from the sidelines, however, to step into the spotlight herself, hosting a dinner to celebrate her new denim collaboration with Re/Done. Held at Indochine, the intimate evening brought out a slew of fashion names including Helena Christensen, Delilah Belle Hamlin, Will Peltz, Mel Ottenberg, and Alyssa Miller, as well as the entire Gerber clan: Kaia, Presley, and dad Rande. Crawford held court in a corner both with Re/Done co-founders Sean Barron and Jamie Mazur, sipping on a spicy margarita (with Dos Casimigos tequila, of course), where she talked Kaia's big week, what makes a good pair of jeans, and rolling around in the sand in denim for Gilles Bensimon.
How are you feeling on the second to last night of fashion week?
Well, second to last night of New York Fashion Week. I'm bringing my daughter all around. We're ending up in Paris to do something with Colette. So this is kicking things off, and we will finish up in Paris, and I'll be there with Kaia. I was so proud of her when she came out of [Alexander] Wang—opened Wang. She was so confident. I wasn't there, but my son represented.
How did you first meet Sean and Jamie of Re/Done?
We've run in the same circles for some time, more than 10 years. I had post something on Instagram that was an old picture of me wearing Levi's, and said something funny like, "Re/Done before Re/Done was even born," and Sean saw it and reached out and said, "Let's do a proper jean." I love their company. I love the heritage of the vintage Levi's and the new stuff. They've reinvented it for Kaia. She is obsessed with it.
How did you decide what exactly you wanted to design?
I just started drawing on a lot of the jeans that they already have. We don't want to repeat what they already have, but the idea was, for me, to feel like that pair of jeans that I had when I was in college. So, not too high-cut, not too skinny. The type of jeans that looks great with a plain t-shirt.
How many days a week do you wear jeans?
In L.A., everyday. There's nowhere that you cannot go in a pair of jeans in L.A., unless it is the Oscars. I was actually just telling them the story of this photographer that I used to work with, who has incredible taste, and wanted his jeans the perfect amount of stone-washed, so he would buy ten pairs of new Levi's, and we would be in St. Barts shooting and he would make everybody put on a pair of his jeans, and we would have to roll around in the sand and the ocean with them. We were stone-washing his jeans for him. It was Gilles Bensimon.
Do you have any peculiarities when it comes to your jeans?
I don't like washing jeans, but Kaia is like, "Oh, they stretch out." But I'm like, "No, that's how they shape to your body!"
Jeans are so much a part of the model off-duty look. How big of a part do they play into your own fashion week wardrobe?
I'm more likely to wear jeans at night in New York than I am during the day. During the day, you want to be a little more polished.
Do you feel like street style during fashion week has changed since when you were modeling?
It is completely different! We didn't have stylists. I used to go to shows after picking out something from a pile of clothes on the ground.
Does Kaia ask for your opinion on her outfits?
I always tell her, "If you ask for my opinion, I'm going to tell you the truth. If you don't want my opinion, don't ask." But she usually does. And then sometimes she'll be like, "Should I post this picture?" And I'm like, "No." And she goes, "Well, I already did." Then why did you ask?
Related: Kaia Gerber On Her New York Fashion Week Debut: "I Kind of Blacked Out"
Cindy Crawford's Perfect Birthday is a Baked Potato with Caviar