Ryan Gosling Reunited With Britney Spears for the First Time Since The Mickey Mouse Club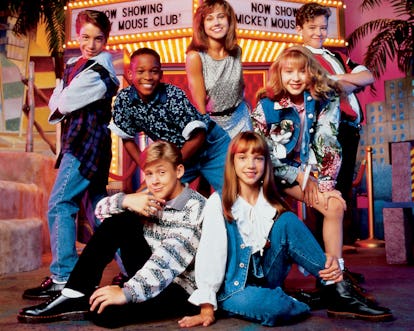 Copyright © ©Buena Vista Pictures/courtesy Everet / Everett Collection
Once a Mickey Mouse Club member, always a Mickey Mouse Club member. This week, Ryan Gosling and Britney Spears proved that those old bonds are still strong as ever when they reunited for what may be the first time since their joint two-season stint on the Disney variety show in the early '90s. The unexpectedreunion took place backstage at The Ellen DeGeneres Show on Thursday, when both Gosling and Spears stopped by to film Friday's episode.
The pair seem to have crossed paths after Spears's brief segment with DeGeneres—during which = the pop star teased was an announcement that she has "an announcement," which won't be revealed until October 18—but before Gosling's longer interview with the host. Early on in their conversation, DeGeneres brought up that quick meeting to the First Man actor, and asked how long it had been since he and Spears had hung out. "Neither one of us could remember, which I think is a sign that it's been quite a while," he said, adding that he was pretty sure he hadn't seen Spears since their The Mickey Mouse Club days.
Gosling also shared what it had been like when he first arrived on the Walt Disney World lot in Orlando, Florida, to star on MMC with Spears and other modern superstars like Christina Aguilera, Justin Timberlake, Keri Russell, and more. "I remember when we first got to the show, they sort of had all the kids perform for one another. And I remember it was Christina Aguilera and then Britney performed, and I remember thinking, 'Okay, so they're, like, freakishly talented,'" he said. "I was used to working with talented people, but that was another level." As for Gosling's own demonstration of his skills? "I think I was just like, 'I'm Canadian,' and they were like, 'Good,'" he joked.
Though, sadly, the Ellen cameras didn't document Gosling and Spears's auspicious reunion (oh, to be a fly on that wall!), somebody did snap a pic of the duo posing alongside DeGeneres, which she she shared on social media on Thursday to tease the next day's episode.
Related: Elle Fanning Still Loves Ryan Gosling, Even Though He's a Dad