Sabrina Carpenter Is Making the Leap With Her New Album, Singular: Act 1
The former Disney star on her new album, "Singular," and her next phase.
---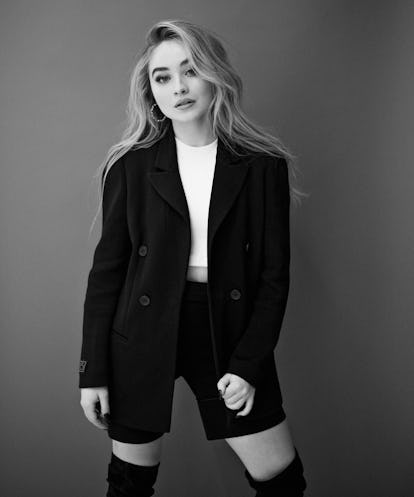 Sabrina Carpenter, a Disney star since the age of 13, is rarely overwhelmed by the spotlight at this point. At least, that's what she thought. "I saw a huge bus with my face on it today," she said incredulously last week. "And I was not prepared for that."
It was just two days before Carpenter would release her third studio album, Singular Act 1, her most personal album yet. She had a packed promo schedule that included appearances on both Live With Kelly and Ryan, The Today Show, and, yes, a bus with her face on it. "I've been moving so fast that you never have time to stop and think, Look at what I'm doing," she said. "But whenever fans come to shows, I'm constantly reminded that I'm doing what I wanted to do when I was 6. That's really cool."
If you aren't one of the 15.2 million people following Carpenter on Instagram, chances are you've already come across one of her many projects over the years—despite the multi-hyphenate turning just 19 earlier this year. In addition to two previous albums, Carpenter was also the star of the immensely popular Disney Channel series Girl Meets World, alongside Rowan Blanchard, from 2014 up until last year. "I was really lucky that I was on a show when I was on a show, and I always say that because, for anybody, those years are primarily made for learning and taking in your surroundings and making mistakes, because you are allowed to make mistakes without being so harshly criticized," she said of her time on the program.
Now Carpenter is turning her full attention to music. "I want everything I do to feel special to me, and for people to feel like there is a purpose behind it," she said. "I had to start listening to myself, or other people were going to make decisions for me. That's a scary time when you're 19, because you're like, I don't want to have control of my mistakes, I don't want to be responsible. But if it does go wrong, and you listened to someone else, then you take the heat for someone else's choices. From start to finish, every sound, every thing that you hear, every level in the mix, every ad-lib came from a place of me being myself."
Carpenter spent the better part of the past two years working on the album, and finding a sound that felt right for her. "There were times when I was 15 or 16 and I'd be in the recording studio singing and do some vibrato, and people would be like, 'Can you just keep it straight?'" she recalled. "Then I realized later, Wait, that's my voice. You don't realize until later that those little things make me Sabrina and differentiate me for different people. The concept that I found for this album later on was that I wasn't writing about confidence; I could just hear a new confidence embodied throughout it.
"I know myself better than anybody, and I know my fans better than anybody, and that was one thing I had to constantly fight to get people to pay attention to," she continued. "If you tell an artist how to be an artist, then they aren't going to be an artist. That is such a sound bite, but it's true. I had to start taking control and really capitalize on that confidence."
Confidence is a word that comes up often in conversation with Carpenter and informs each song on the album, but, Carpenter explained, "I don't even like that word. I don't think it's something you should stress on somebody; it's just something that we have to know that we have. Obviously, at our highest moments, we are confident naturally, and it's just about forgetting there are ever times that we don't have it."
To illustrate her point, she listed off the names of the artists who have inspired her. "The reason why I love Rihanna, why I love Beyoncé, why I love Christina Aguilera—I grew up on these people who knew who they were," she said. "There is something really powerful behind that."
While Singular Act 1 will certainly keep Carpenter busy in the months to come, with a tour planned for next year, she still hasn't forgotten about her other career. Her most recent film, The Hate U Give, won rave reviews for deftly handling the topic of Black Lives Matter within the realms of a young adult movie. "It was exactly what I had hoped we would start to see in this younger demographic," Carpenter said. "I think that for a long time people felt like you had to dumb it down. At 10 years old people always said, 'You're so mature for your age,' and I wish there were things like this when I was young, and things to describe the way that the world was working at that time."
In the film, Carpenter plays Hailey, a friend of Amandla Stenberg's Starr, and one of the film's adversaries. "That was something that I'd never done before; I'd always played these likable roles," she said. "But this was more than just a mean girl. There were more levels to it, because there are so many people in our lives like her. They are not necessary evil, and they are not necessarily bad people, but they are just ignorant.… It was really challenging, but once I got on set, I wasn't scared anymore."
Next, Carpenter will appear in the indie film The Short History of the Long Road, about a young woman growing up while living on the road, due out next year. "It was my first indie. It was one of those moments in my life when I was like, If I don't do it now, I won't get to it," she said. "It's very much a coming-of-age story, but a weird one. It's about survival mode, which is something you don't normally get to see with girls my age. That was a really cool experience."
Not to mention, something the singer is experiencing herself as she enters the next period of her career. "I've learned so much about myself," she said. "And I still have so much more to learn."