Saint West and Reign Disick Celebrated Their Birthdays with a Monster-Themed Joint Party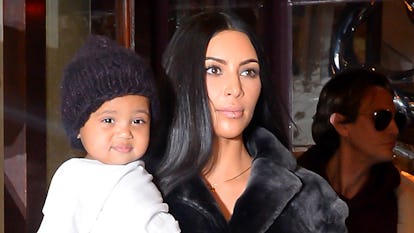 Raymond Hall/GC Images/Getty Images
The Kardashian-Jenner family is currently preparing to welcome anywhere between one and three new babies in the coming months, but until then, they're staying busy by celebrating some of the youngest members of their all-star clan. On Sunday, Saint West and Reign Disick had a joint monster-themed birthday party. (West will be 2 on Tuesday, and Disick will turn 3 on December 14, the same day that older brother Mason turns 8.)
Proud moms Kim Kardashian West and Kourtney Kardashian shared photos and videos from the birthday bash on their Snapchat and Instagram Stories. Per the sisters's pics, highlights of the party included a s'mores station; a fake snow–covered hill with candy cane–patterned inflatable sleds; an ice rink surrounded by balloons spelling out "Merry Monster Mash"; a cake for each of the boys, with Mike Wazowski from Monsters, Inc. sitting on Saint's cake and Sully from the Disney film on Reign's; and Santa Claus himself lounging in a deck chair underneath a tree. Kardashian West also shared photos of husband Kanye West, 4-year-old daughter North, and Saint all wearing matching shoes and coordinating sweatshirt-sweatpants combos, while her older sister shared a photo of Reign running across the ice rink while wearing a Sully costume.
The family's last celebrations took place in mid-November, when Kardashian West and younger sister Kylie Jenner threw back-to-back baby showers. Kardashian West, whose surrogate is reportedly due any day now, prepped for North and Saint's little sister with a cherry blossom–themed party on Saturday, November 11. The following day, Jenner reportedly hosted an extremely low-key pajama party–themed shower at her Calabasas home. Although none of the guests at the 20-year-old's party shared any photos from the event on social media, paparazzi spotted elegantly decorated tables and huge flower arrangements underneath a tent in Jenner's backyard.
It's still unknown when Jenner and big sis Khloé Kardashian are due, but if Kardashian West's surrogate is really on track to give birth this month, there might be at least one new Kardashian-Jenner by the time the next family get-together, Kris Jenner's annual Christmas Eve party, rolls around later this month.
At Four Years Old, North West Is Already Chicer Than You On Instagram
Out in New York City with mom Kim Kardashian, wearing matching furry coats. 2016.

Instagram
Throwing serious side-eye while wearing sunglasses on vacation with dad, Kanye West.

Instagram
Dressed like a princess with her best friend, Ryan, and cousin Penelope Disick.

Instagram
Trying on mom's thigh-high, silver Balenciaga boots. "Didn't think it would happen this soon…my baby girl stealing my shoes. At least she has good taste," wrote Kardashian.

Instagram
Visiting Bambi's friends while in character at Disneyland.

Instagram
Taking a bath with a few glowing accessories, 2016.

Instagram
Trying out Snapchat's flower crown and somehow avoiding looking basic.

Instagram
Wearing matching custom Vetements with Mom while heading to Dad's concert.

Instagram
Wearing matching custom Vetements with Mom while heading to Dad's concert.

Instagram
Accessorizing a velvet slip dress with furry slides and a white baseball cap.

Courtesy of @kimkardashian
With Mom, Dad, and President Barack Obama. "Oh Northie!!! North fell and was crying so Potus gave her White House M&M's. She smiled when I opened the box but I wanted to save them for memories so wouldn't let her eat them so she cried again," Kardashian wrote.

Instagram
Again, with President Obama, this time playing it cool.

Instagram
Playing the part of a very chic tennis girl in a white velvet slip dress and matching white hat.

Instagram
Getting a backstage tour with Ariana Grande before the singer's stadium tour.

Instagram
Giving aunt Kylie a run for her lip empire money with goth black lips.

Instagram
Cozing up to Mom in a fashionable leopard print top and black choker.

Instagram
Posing for a family portrait on Easter with Mom, Dad, and brother Saint.

Courtesy of @kimkardashian
Working hard as the fit model for Mom and Dad's new clothing line.

Courtesy of @kimkardashian
"That time North gets a time out & is a little too quiet… I go in her room to check on her & she's in the bathroom, made her own spa & tells me she's chilling out," wrote Kardashian.

Instagram
"she has no clue what 100 million followers means but she's excited cause i'm excited lol thanks for the follows and the love" captioned Kardashian.

Courtesy of @kimkardashian
Of the mommy-and-me style, Kardashian wrote, simply: "Besties!"

Instagram
For a Mother's Day post, Kardashian wrote, "Thank you to my babies for choosing me and allowing me to be your mom. You've given me a deep love I can't explain. I'm always here to teach you and protect you! Thank you for making my Mothers Day so special!"

Getty