Sarah Jessica Parker on the Beauty of Simple Lingerie: "I Love a Good, Old-Fashioned Bra"
The actress opened up at the Intimissimi Fifth Avenue store opening.
---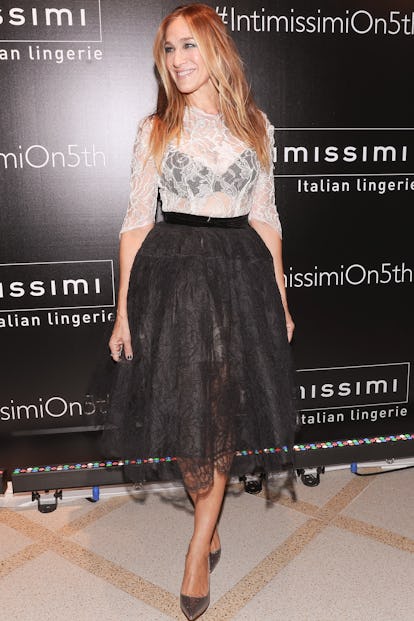 Neil Rasmus/BFA.com
Sarah Jessica Parker has never been shy when it comes to fashion–thank you, Patricia Field–so on Wednesday evening, it was not a shock to see the actress wearing a sheer lace Oscar de la Renta number, exposing a black bra underneath.
"No point in hiding it," she said, of the revealing ensemble. "Well, tonight. That's not my motto."
Parker's look was no fashion faux pas, but rather a thoughtful way to show off her Intimissimi undergarments, while celebrating the Italian lingerie brand's new Fifth Avenue Flagship.
It was a sartorial choice that also immediately conjured up a charming story about Parker's now 14-year-old son, James Wilkie Broderick. "I'll tell you a quick story," she said. "When The Producers first opened and we were always heading out East in the summer, and my son was a toddler, a lot of the women and men from the ensemble would head out to Long Island. One of the great chorus girls of all time, named Angie [Schworer], came out and we were talking about what it means to walk on stage as a chorus girl, and she was teaching my son what it means to, 'show it, hide it.' They walk with a leg open and then cross it over. It's the best thing in the world."
So, does her son now walk like a chorus girl? "He tried to learn it, but he wasn't even two," Parker explained.
The actress was holding court in the store's makeshift VIP area, where she surveyed the new two-story store. Parker, of course, is no stranger to a good shopping experience. Of what makes a store appeal to her?"The idea that I might get something that feels special," she said. "That's why I like thrift stores so much. There is always the possibility of something that feels singular."
And what can be more special than the perfect bra? "I like basics," she said. "The simpler, the better. I'm a small person, and I've always like simplicity. I'm not suited for all the accoutrements.
"The beauty of a bra is that it becomes singular because it is just you and how you wear it," she concluded. "It is less like a dress in a way that it can feel more recognizable. I have a lot of respect for the bra. I've worn it in many movies both day and night and on-camera and in bed. I love a good old-fashioned bra. I mean, I admire those who can go around without one, but such is not the case for me."
Related: A Love Letter to Sarah Jessica Parker's Curls
Gigi Hadid Dramatically Reads "Popular"