Patricia Field, Fashion's Beloved Costume Designer, Has Been Cutting the Backs Off Her Shoes
Post-Sex and the City, the costume designer has discovered a few new fashion moves.
---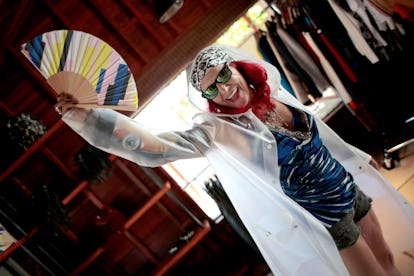 Tyler Curtis/Getty Images
In early 2015, there came an end of an era: The flame-haired costume designer Patricia Field, best known for her work outfitting Carrie Bradshaw on Sex and the City, shuttered her namesake boutique on the Bowery, which at that point, after five decades of selling its special blend of neon, glitter, rhinestone, and patent leather ensembles, had more than established its status as a New York institution.
Still, a couple years later, at 75, Field is still going strong not only with her business—she maintains an online shop, plus her styling for TV shows like Younger—but with the neighborhood, which she's maintained ties to through her work with the Lower Eastside Girls Club, a group she's considered as much a part of the community as she is ever since she discovered it 10 years ago. The nonprofit, which helps impoverished girls plan for their futures, honored her last year at their annual spring fling, but at this last week's benefit at the Bowery Hotel Field got to let loose, hanging with Rosario Dawson and Chloë Sevigny. She even found time to share her culture diet, here.
First thing you read in the morning:
The weather, my calendar, and my emails.
Books on your bedside table right now:
Cleopatra: A Life by Stacy Schiff and I'll Drink to That, the memoir of Betty Halbreich of Bergdorf Goodman with Rebecca Paley.
The TV shows keeping you up at night:
Old classic movies, documentaries, and the news.
Last movie you saw in theaters:
A trilogy: Hidden Figures, Moonlight, and Fences. All excellent.
Last thing you saw at the theater:
Hamilton, of course. Ten stars. And Sweet Charity, which stars the talented Sutton Foster, who also stars on a TV show I'm involved in called Younger.
Last piece of art you bought:
Most of my art comes in the form of a gift from artists who are my friends.
Last museum exhibition that you loved:
The Benaki Museum in Greece's exhibition on the Greek actress and cultural minister Melina Mercouri.
Last clothing item you purchased:
A mad and colorful pair of Versace jeans.
Last clothing item you lusted over:
Honestly, clothing is not a part of my lust list. I am very particular about what I lust for.
Best recent fashion discovery:
Cutting off the backs of various shoes that I own.
Last thing you do before you go to bed:
Walk my dogs, heat up a cup of coffee, and smoke a cigarette.
See 62 Fashion Insiders Speak Up for Women's Rights: