Sarah Jessica Parker on Kim Cattrall: Can't "Imagine Doing Another Movie" Without Her
Despite reports of bad blood between the two actors, Parker is refusing to fan the flames.
---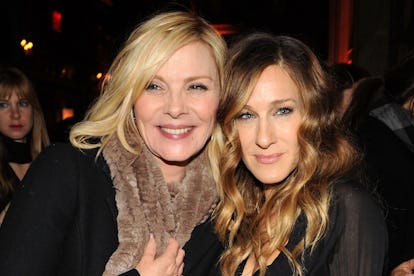 Bryan Bedder/Getty Images
Throughout the alleged Sarah Jessica Parker-Kim Cattrall feud—which, though discussed in the years following the show's finale, was really set ablaze last year by Cattrall's announcement she would not participate in a rumored third Sex and the City film—Parker has remained adamant that "there was no fight."
That is, though Cattrall called Parker "toxic" in an interview with Piers Morgan and, in the wake of the death of her brother, lashed out at her Sex and the City costar on Instagram, the once and perhaps not future Carrie Bradshaw did not respond, "because she"—referring to Cattrall—"needed to say what she needed to say, and that is her privilege," Parker said in an interview with People. No response, no feud. The reported bad blood seems to have cooled in recent months—or, at least, the spate of tabloid headlines have slowed down—as the actors have pursued their respective careers (and as Cynthia Nixon's now-ended gubernatorial bid had gained momentum). But regardless of the reality of their relationship, or lack thereof, Parker is still declining to publicly fan the flames for anyone's benefit.
On Tuesday, a fan commented on a photo Parker posted to Instagram, writing, "you are still my hero. please replace or write her out kim/samantha if she is not interested and bring back sex and the city movie #3. the fans need this." Parker wrote back a simple response: "not sure if I can imagine doing another movie without her. X," she replied, followed by a purple heart emoji. So perhaps the book is finally closed on Sex and the City, but maybe we can also actually close the book on what has turned out to be one of the year's uglier sagas.
Related: The Kim Cattrall and Sarah Jessica Parker Drama: A History