Sarah Jessica Parker Is the Solar Eclipse's Greatest Fan
"It's happening, you guys. It's happening!"
---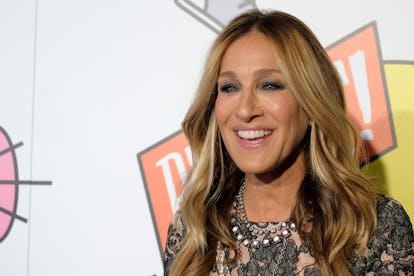 Jemal Countess
With celebrities everywhere gearing up for the solar eclipse, I couldn't help but wonder: Who among them would prove to be the most excited?
Answer: Sarah Jessica Parker. By quite the long shot. Imagine how excited her character Carrie Bradshaw would be coming across a 75 percent off sale of Jimmy Choos, multiple that by about a thousand, and add in a free Fendi baguette bag, and you'll have some sense of Parker's quite animated reaction to the eclipse.
The Sex and the City star posted four videos to her Instagram account of her adventures as an "eclipse chaser," which show she and husband Matthew Broderick literally chasing the eclipse on a boat in South Carolina.
The first video shows a clear shot of a blue sky right before the main event, but video the real excitement starts in video #2 when she first notices that there is a "chip" out of the sun. In an exclamation point-filled caption ("The thrills of eclipse chasing! First sighting. Chip out upper right! Don't look without glasses!") she describes it as looking like someone took a bite out of a cookie, and in the video itself she is simply pumped.
"It's one of the most thrilling moments in my life besides having my children, marriage and all that," she says from offscreen, way too excited to keep the selfie camera focused on her face.
In the next clip, the climax of the entire series, she loses it: "Oh my god this is the most spectacular light I've ever seen. It doesn't make any sense. It's happening, you guys. It's happening!"
The final video is so pure and heartwarming, one user admitted to tearing up. "We did it," she whispers while panning the camera on — admittedly — some really spectacular light. "We saw it."
… And we thought this kind of excitement was only reserved for Manolo Blahnik Mary Janes.
Related: Diane Keaton, Lady Gaga, and a Bunch of Other Celebrities Who Had a Better Eclipse Day Than You
7 Infamous On-Set Hollywood Feuds: