Saudi Arabian Crown Prince Mohammed bin Salman Booked Every Room in L.A.'s Four Seasons Hotel For His Entourage
And he's not even staying there—his entourage is.
---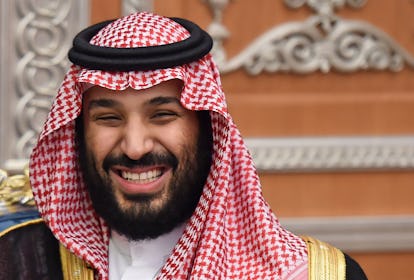 FAYEZ NURELDINE/AFP/Getty Images
Just when you thought that true wealth was dropping $15 million on an apartment with only four bedrooms (hi, Jennifer Lopez and Alex Rodriguez), the Saudi Arabian Crown Prince, Mohammed bin Salman, is making that look like penny-pinching. The prince didn't just book the priciest room at Los Angeles's famous Four Seasons Hotel—the very one that banned aughts-era Britney Spears—he reserved the the whole place for his vacation. Not bad for someone who's only on their first-ever trip to the city.
On his L.A. vacation, Salman and his entourage alone are occupying the hotel this Tuesday, Wednesday, and Thursday night, per The Hollywood Reporter. Incredibly, though, the crown prince isn't even staying there himself; he's merely filling the hotel with his close friends and other "distinguished guests." While they occupy some of the hotel's 185 guest rooms (which start at $625 a night) and 100 luxury suites (which can top $10,000 a night), the crown prince himself will be staying at a private residence, as THR notes.
So why book an entire hotel only to stay somewhere else? The Four Seasons, which is still open to the public this week despite catering exclusively to Salman's guests (in their rooms as well as in the halls with newly installed Arabic signs), is hosting a summit for Saudi Arabia's General Entertainment Authority, which is planning a revitalization within the country. Saudi Arabia will soon be reopening public cinemas after a 35-year ban, per THR, and this summit is reportedly focused on how to grow the country's own entertainment industry.
Prince Mohammed bin Salman has already made inroads to Los Angeles's entertainment industry. On Monday night, he trekked to Rupert Murdoch's Bel Air estate, according to THR, where he met Disney CEO Bob Iger and executives from Universal film and Fox TV, ahead of a week of meetings with everyone from Oprah Winfrey to Ari Emanuel, the real-life inspiration behind Jeremy Piven's Entourage character. Salman also met with some of Hollywood's most recognizable faces, including Morgan Freeman, Michael Douglas, and The Rock, who reportedly posed for selfies with members from his entourage. If you go to L.A. and don't get a celebrity selfie, did the trip even happen?