Scarlett Johansson Wore a Marchesa Gown to the 2018 Met Gala
It's the first time an A-list celebrity has worn the brand since the Harvey Weinstein allegations came out.
---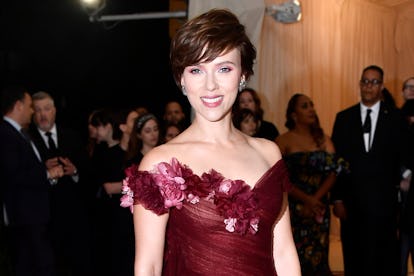 Composite. Frazer Harrison/Getty Images
With Rihanna serving us a pearl-encrusted pope and Alessandro Michele, Lana Del Rey, and Jared Leto cosplaying as Jesus, Mary, and Joseph, the 2018 Met Gala was basically designed to court controversy. One celebrity, however, had a different kind of controversy in mind. That was one Scarlett Johansson, who attended the event in an otherwise conventional gown that happened to be designed by Marchesa, the fashion brand co-run by Georgina Chapman, Harvey Weinstein's ex-wife.
The gown in question was an ombré tulle creation that bled from maroon to dusty pink, with petals embedded throughout. According to several outlets, this is the first time a celebrity of Johansson's stature has worn the brand on the red carpet since the sexual assault allegations against Weinstein broke last fall. Marchesa's future had seemed questionable after allegations came out saying Weinstein had pressured actresses like Felicity Huffman and Sienna Miller to wear his ex-wife's brand on the red carpet.
In the aftermath of the allegations, the brand, which Chapman co-designs with Keren Craig, has undergone some major changes. In January, Marchesa released its lookbook digitally and without press appointments. Later that month, the label announced it would not be doing a New York Fashion Week show after all.
Chapman has not commented on the allegations against Weinstein beyond one brief statement she made shortly after the scandal broke announcing the couple's separation. Although Weinstein himself had previously said his ex-wife "stands 100 percent behind me" and that the two had discussed the story at length, Chapman refuted this a week later. "My heart breaks for all the women who have suffered tremendous pain because of these unforgivable actions. I have chosen to leave my husband," Chapman said in a statement, People reported. "Caring for my young children is my first priority and I ask the media for privacy at this time."
Johansson, meanwhile, has been a vocal figure in the Time's Up moment, and spoke at last month's Women's March in Los Angeles during which she called out James Franco.
Related: Grimes and Elon Musk Debut as a Couple at the Met Gala
Met Gala 2018: See What Celebrities Wore on the Red Carpet
Rihanna at the 2018 Met Gala. Photograph by Benedict Evans for W Magazine.

Benedict Evans
Cardi B at the 2018 Met Gala. Photograph by Benedict Evans for W Magazine.

Benedict Evans
Lily Collins at the 2018 Met Gala. Photograph by Benedict Evans for W Magazine.

Benedict Evans
Donald Glover at the 2018 Met Gala. Photograph by Benedict Evans for W Magazine.

Benedict Evans
Selena Gomez at the 2018 Met Gala. Photograph by Benedict Evans for W Magazine.

Benedict Evans
Katherine Langford at the 2018 Met Gala. Photograph by Benedict Evans for W Magazine.

Benedict Evans
Jasmine Sanders at the 2018 Met Gala. Photograph by Benedict Evans for W Magazine.

Benedict Evans
Rosie Huntington Whiteley at the 2018 Met Gala. Photograph by Benedict Evans for W Magazine.

Benedict Evans
Kate Upton at the 2018 Met Gala. Photograph by Benedict Evans for W Magazine.

Benedict Evans
Winnie Harlow at the 2018 Met Gala. Photograph by Benedict Evans for W Magazine.

Benedict Evans
Alek Wek at the 2018 Met Gala. Photograph by Benedict Evans for W Magazine.

Benedict Evans
Zendaya at the 2018 Met Gala. Photograph by Benedict Evans for W Magazine.

Benedict Evans
Priyanka Chopra at the 2018 Met Gala. Photograph by Benedict Evans for W Magazine.

Benedict Evans
Migos at the 2018 Met Gala. Photograph by Benedict Evans for W Magazine.

Benedict Evans
George and Amal Clooney at the 2018 Met Gala. Photograph by Benedict Evans for W Magazine.

Benedict Evans
Lena Waithe at the 2018 Met Gala. Photograph by Benedict Evans for W Magazine.

Benedict Evans
Ariana Grande at the 2018 Met Gala. Photograph by Benedict Evans for W Magazine.

Benedict Evans
Kim Kardashian at the 2018 Met Gala. Photograph by Benedict Evans for W Magazine.

Benedict Evans
Travis Scott and Kylie Jenner at the 2018 Met Gala. Photograph by Benedict Evans for W Magazine.

Benedict Evans
Blake Lively at the 2018 Met Gala. Photograph by Benedict Evans for W Magazine.

Benedict Evans
Bella Hadid at the 2018 Met Gala. Photograph by Benedict Evans for W Magazine.

Benedict Evans
SZA at the 2018 Met Gala. Photograph by Benedict Evans for W Magazine.

Benedict Evans
Kendall Jenner at the 2018 Met Gala. Photograph by Benedict Evans for W Magazine.

Benedict Evans
Janelle Monae at the 2018 Met Gala. Photograph by Benedict Evans for W Magazine.

Benedict Evans
Emily Ratajkowski at the 2018 Met Gala. Photograph by Benedict Evans for W Magazine.

Benedict Evans
Daniel Kaluuya at the 2018 Met Gala. Photograph by Benedict Evans for W Magazine.

Benedict Evans
Gigi Hadid at the 2018 Met Gala. Photograph by Benedict Evans for W Magazine.

Benedict Evans
Katy Perry at the 2018 Met Gala. Photograph by Benedict Evans for W Magazine.

Benedict Evans
Paris Jackson at the 2018 Met Gala. Photograph by Benedict Evans for W Magazine.

Benedict Evans
Madonne and Nicki Minaj at the 2018 Met Gala. Photograph by Benedict Evans for W Magazine.

Benedict Evans