Sean Spicer Is Finally Leaving the White House, and His Co-Workers Are Celebrating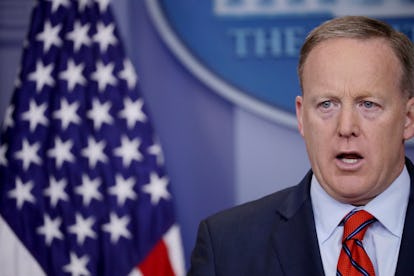 Chip Somodevilla
It's been just more than a month since Sean Spicer handed in his resignation, and yet the former press secretary is still lurking in the halls of the White House. Loose ends to tie up, perhaps? Well, let's take a look at what he's been up to in August: Spicer has spent a lot of his time discussing a possible Dancing with the Stars appearance, documenting the ongoing renovations at the White House on his Instagram, and tracking news about George Clooney and Matt Damon.
Since he stepped down from his position, "Spicer filled his last four weeks with exploring his next move and wandering the halls of the West Wing," CNN reported—wandering and waiting, presumably, to meet the Pope, and for his peers to finally acknowledge his unceremonious departure.
That day has finally come. Earlier this week, Spicer shook the hand of Pope Francis at last, three months after the rest of his former colleagues had convened at the Vatican amid suspicion Spicer's name had intentionally been left off the list of those granted an audience with the Pope; and on Thursday, White House staffers plan to throw a farewell party for Spicer to celebrate his "last official day," according to CNN. A going-away party might be de rigueur at most workplaces, but Spicer's peers will truly celebrate an end to errors like that time he said Adolf Hitler "didn't even sink to the level of using chemical weapons" at his "Holocaust centers," or when he praised the ongoing work of the late Frederick Douglass, whose "contributions … will become more and more." Not that successor Sarah Huckabee Sanders has had immensely more success, picking fights with the White House press pool and continuing to echo the administration's claims of "fake news" directed at many of the outlets—most notably, CNN, who reported on Spicer's final weeks in the White House.
Though the Trump White House is not known for its culinary savvy—the commander-in-chief is, after all, a man who prefers his steak well-done and doused in ketchup, his taco salads Trump-branded, and his ice cream any way so long as he gets more than everyone else at the table—Spicer has attempted to prove himself a man of discerning tastes on his Instagram. For example, Spicer, like all of us, has been known to post a foodie image or two; his feed offers a preview of what might be on the menu at his going-away fete, like an extremely patriotic berry cake with blueberries and strawberries arranged in an American flag. The party may also present an opportunity for Spicer to clear out the contents of his stolen minifridge, which was reportedly stocked with frozen Lean Cuisine meals before Spicer made off with it under cover of darkness.
One thing is for certain: Though they've reconciled their differences with the one-time press secretary, Dippin Dots will not be served. After all, this is a party launching Spicer into his uncertain future, and, as he's made it known, Dippin Dots are not the ice cream of the future.
Samantha Bee and Jason Jones, former Daily Show correspondents, on love: