Selena Gomez Joined Cardi B for a Surprise Performance at Coachella
So this is what FOMO feels like.
---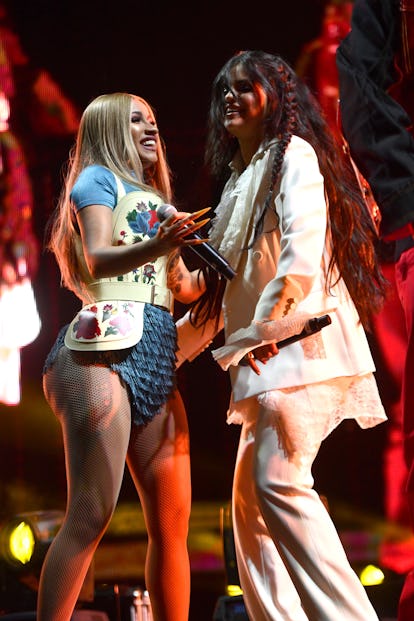 Scott Dudelson
Selena Gomez sure knows how to make a comeback. After an extended time away from the spotlight, Gomez made a roaring return when she joined Cardi B and Ozuna for a performance during DJ Snake's Coachella set on Friday. The trio performed their hit song "Taki Taki" in front of a frenzied crowd, and we have the social media posts to prove it.
Decked out in a striking lavender suit, Gomez was all smiles in what was her first performance since she sang alongside Taylor Swift in Pasadena, during the singer's May 2018 stop on her Reputation tour.
Gomez was hospitalized in October of last year after reportedly suffering an "emotional breakdown." At the time, People reported that the breakdown occurred when Gomez was at a hospital to treat a low white blood cell count, that resulted from a kidney transplant. "She has had a tough few weeks and the panic attack in the hospital was the tipping point," a source told People. "She realized she needed to seek additional help for her ongoing emotional issues. She's surrounded by close family and has a lot of support. She's doing better now and is seeking treatment on the east coast."
Prior to her hospitalization, Gomez announced that she was taking a hiatus from social media. "As much as I am grateful for the voice that social media gives each of us, I am equally grateful to be able to step back and live my life present to the moment I have been given," she wrote at the time."
It wasn't the first time that Gomez took a break from social media. In an interview with Elle, Gomez revealed that she had imposed similar restrictions on herself in the past. "I haven't been on the Internet in months…. The reason why is, it's not real to me. I know my voice is very prominent, but I'm not careless with it. I'm selective," she said at the time. "As far as my personal life, someone sees me having a glass of wine? I could give two shits. I'm not trying to hide. That's my life. I'm living it the way I want to live it. But it's about making a conscious effort—if I can have a moment to be with my friends, I'll take that time. So I don't have any of it. I had to make that decision."
Related: Selena Gomez Is No Longer the Most-Followed Person on Instagram
Selena Gomez's Style Evolution, From Disney Days to Fashion Forward Superstar
Selena Gomez arrives to the 23 Annual IMAGEN Awards on August 21, 2008 in Beverly Hills, California.

Getty
Selena Gomez arrives at the Teen Choice Awards 2009 held at the Gibson Amphitheatre on August 9, 2009 in Universal City, California.

Getty
Selena Gomez arrives at the 2009 ALMA Awards at Royce Hall on the UCLA Campus on September 17, 2009 in Westwood, Los Angeles, California.

Getty
Selena Gomez arrives at the People's Choice Awards in Los Angeles, California on January 5, 2011.

Getty
Selena Gomez arrives at Nickelodeon's 23rd Annual Kids' Choice Awards held at UCLA's Pauley Pavilion on March 27, 2010 in Los Angeles, California.

Getty
Selena Gomez attends the "Justin Bieber: Never Say Never" Los Angeles Premiere at Nokia Theatre L.A. Live on February 8, 2011 in Los Angeles, California.

Getty
Selena Gomez arrives at The 53rd Annual GRAMMY Awards held at Staples Center on February 13, 2011 in Los Angeles, California.

Getty
Selena Gomez arrives at the Vanity Fair Oscar party hosted by Graydon Carter held at Sunset Tower on February 27, 2011 in West Hollywood, California.

Getty
Selena Gomez arrives at the 2011 American Music Awards held at Nokia Theatre L.A. LIVE on November 20, 2011 in Los Angeles, California.

Getty
Selena Gomez arrives at Nickelodeon's 24th Annual Kids' Choice Awards at Galen Center on April 2, 2011 in Los Angeles, California.

Getty
Selena Gomez attends the 2012 Nickelodeon Kids' Choice Awards at Galen Center on March 31, 2012 in Los Angeles, California.

Getty
Selena Gomez arrives at the 2012 Vanity Fair Oscar Party at Sunset Tower on February 26, 2012 in West Hollywood, California.

Getty
Selena Gomez arrives at the 2012 Teen Choice Awards at Gibson Amphitheatre on July 22, 2012 in Universal City, California.

Getty
Selena Gomez arrives at the 2013 Billboard Music Awards at MGM Grand Hotel & Casino on May 19, 2013 in Las Vegas, Nevada.

Getty
Selena Gomez attends the German premiere of 'Spring Breakers' at the cinestar Potsdamer Platz on February 19, 2013 in Berlin, Germany.

Getty
Selena Gomez attends the 2013 Vanity Fair Oscar party at Sunset Tower on February 24, 2013 in West Hollywood, California.

Getty
Selena Gomez attends the 2013 Teen Choice Awards at Gibson Amphitheatre on August 11, 2013 in Universal City, California.

Getty
Selena Gomez attends the 2014 LACMA Art + Film Gala Honoring Barbara Kruger And Quentin Tarantino Presented By Gucci at LACMA on November 1, 2014 in Los Angeles, California.

Getty
Selena Gomez arrives at the "Rudderless" – Los Angeles VIP Screening at the Vista Theatre on October 7, 2014 in Los Angeles, California.

Getty
Selena Gomez arrives at the 2015 Vanity Fair Oscar Party Hosted By Graydon Carter at Wallis Annenberg Center for the Performing Arts on February 22, 2015 in Beverly Hills, California.

Getty
Selena Gomez attends the premiere of 'Getaway' presented by Warner Bros. Pictures at Regency Village Theatre on August 26, 2013 in Westwood, California.

Getty
Selena Gomez attends the 2014 American Music Awards at Nokia Theatre L.A. Live on November 23, 2014 in Los Angeles, California.

Getty
Selena Gomez attends the "China: Through The Looking Glass" Costume Institute Benefit Gala at the Metropolitan Museum of Art on May 4, 2015 in New York City.

Getty
Selena Gomez attends the 2014 Vanity Fair Oscar Party hosted by Graydon Carter on March 2, 2014 in West Hollywood, California.

Getty
Selena Gomez arrives to the 2015 MTV Video Music Awards at Microsoft Theater on August 30, 2015 in Los Angeles, California.

Getty
Selena Gomez attends 2015 Glamour Women Of The Year Awards at Carnegie Hall on November 9, 2015 in New York City.

Getty
Selena Gomez arrives at The 58th GRAMMY Awards at Staples Center on February 15, 2016 in Los Angeles, California.

Getty
Selena Gomez arrives at the 6th Biennial UNICEF Ball at the Beverly Wilshire Four Seasons Hotel on January 12, 2016 in Beverly Hills, California.

Getty
Selena Gomez arrives at the 2015 American Music Awards at Microsoft Theater on November 22, 2015 in Los Angeles, California.

Getty
Selena Gomez arrives at the 2016 Vanity Fair Oscar Party Hosted By Graydon Carter at Wallis Annenberg Center for the Performing Arts on February 28, 2016 in Beverly Hills, California.

Getty