Selena Gomez Is No Longer the Most-Followed Person on Instagram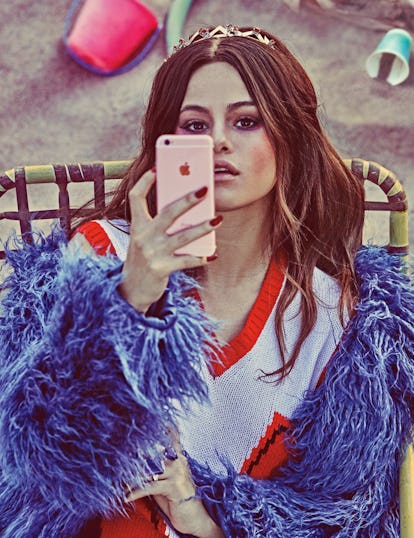 Steven Klein
After an unprecedented three-year run at the top of Instagram's list of the most-followed people, Selena Gomez has officially surrendered her title to another international superstar. On Monday, Cristiano Ronaldo shot past Gomez to nab the top spot, Elle reports. As of Monday afternoon, Ronaldo had a whopping 144,326,556 followers, while Gomez's own follower count clocked in at 144,315,970. As it stands, the difference between the two IG power users is a little over 10,000 people, which, in the grand scheme of things, is practically peanuts to those in Instagram's top 10. If this shocking news mobilizes Selenators to round up a few new followers each for the singer and actor, she could easily retake her crown by the end of the day.
Ronaldo's Insta-surge was likely spurred by the simple fact that he's been much more visible than Gomez both on the social media platform and in the real world in recent months. Not only does the Portuguese soccer star upload photos and videos of his family, training regimen, and athletic feats several times a week but he's also made headlines of late for his switch from Real Madrid to Northern Italy's Juventus team. Those new followers, then, could be Juventus supporters who, a few games into his Turinese tenure, have finally deemed Ronaldo worthy of their follow.
Gomez, already an irregular Instagrammer, has been on a total social media hiatus for the past few weeks, and has also stayed out of the public eye while reportedly receiving treatment for an "emotional breakdown" earlier this month. At the end of September, after a short-lived burst of activity on the app, Gomez updated a selfie's caption to read, "Taking a social media break. Again. As much as I am grateful for the voice that social media gives each of us, I am equally grateful to be able to step back and live my life present to the moment I have been given. Kindness and encouragement only for a bit! Just remember—negative comments can hurt anybody's feelings. Obvi."
That announcement came shortly after Gomez said in Elle's October issue that she subscribes to a certain form of Luddism. "I'm not on the internet," she said. "I haven't been on the internet in months. I don't have my password for Instagram. I have no apps on my phone, no photo editing apps. I have Peak, a brain game." She explained, "The reason why is, it's not real to me. I know my voice is very prominent, but I'm not careless with it. I'm selective. As far as my personal life, someone sees me having a glass of wine? I could give two shits. I'm not trying to hide. That's my life. I'm living it the way I want to live it. But it's about making a conscious effort—if I can have a moment to be with my friends, I'll take that time. So I don't have any of it. I had to make that decision."
Related: 15 of Selena Gomez's Best Beauty Looks to Channel Now
15 of Selena Gomez's Best Beauty Looks to Channel Now
Attending the 2007 World Magic Awards, Selena Gomez wore her long brunette hair in tousled waves with a hint of blush on the cheeks.

Photo by Getty.
Debuting her shoulder-length bob with blunt bangs, the actress looked sleek at the CNN Heroes: An All-Star Tribute in 2008.

Photo by Getty.
Opting for an wavy up do with a bold, satin red lip, Gomez channeled classic Hollywood glam at the 6th Annual Hollywood Style Awards in 2009.

Photo by Getty.
Wearing her dark brunette locks in a low pony with loose curls framing her face and frosted silver eye, Gomez looked like a futuristic pop star at the 2010 MTV Video Music Awards.

Photo by Getty.
Wearing her hair in a chic, tousled braid with luminous skin, the singer attended the 12th Annual Warner Bros. and Instyle Post-Golden Globe Party in 2011.

Photo by Getty.
Wearing her long highlighted locks in a sleek straight with a glossy pink lip to match her ensemble, Gomez arrives at the 2012 Teen Choice Awards.

Photo by Getty.
At the Nickelodeon's 25th Annual Kids' Choice Awards in 2012, Gomez wore her shoulder-length locks in wild curls with a dark navy smoky eye.

Photo by Getty.
Opting her a sleek side-parted do with a glossy mauve lip and subtle cat eye, Gomez was all grown up at the 2013 MTV Video Music Awards.

Photo by Getty.
At the 2014 Costume Institute Gala, Gomez wore her hair in an elegant twisted up do with a berry lip.

Photo by Getty.
Keeping her look minimal with a simple middle-parted low bun and a red maroon lip, Gomez looked chic at the 2014 American Music Awards.

Photo by Getty.
Stunning at the 2015 Costume Institute Gala, Gomez embellished her sleek up do with a white floral headpiece and a bold red lip.

Photo by Getty.
At the 2015 American Music Awards, Gomez wore her long dark brunette locks sleek straight with an exaggerated magenta smoky eye.

Photo by Getty.
Gomez rocked voluminous, bouncy curls with a dramatic taupe smokey eye and nude lip at the 58th Grammy Awards.

Photo by Getty.
At the Los Angeles premiere of Netflix's 13 Reasons Why, Gomez wore her hair pulled back in a sleek up do paired with a pastel orange smoky eye and luminous skin.

Photo by Getty.
At the 2017 Costume Institute Gala, Gomez debuted a sleek, newly chopped bob with an exaggerated magenta pink smoky eye.

Photo by Getty.