Selena Gomez Says She Hasn't Been on the Internet in "Months"
And yet she's still the most followed person on Instagram.
---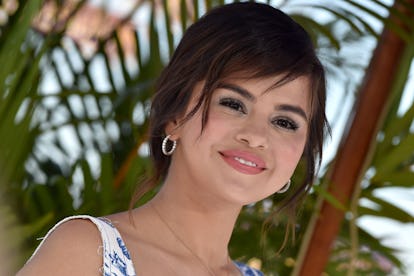 Axelle/Bauer-Griffin/Getty Images
It's no secret that Selena Gomez has taken a step back from the spotlight of late. Despite a new Coach campaign and a few summery Instagram posts, the singer has remained largely removed from the Internet's ongoing conversations about her career and her personal life—like how she would react to former beau Justin Bieber and Hailey Baldwin's engagement, or what the deal is with that movie she filmed with Woody Allen—and that's exactly how she wants it, thank you very much.
"I'm not on the Internet," Gomez revealed in her cover story for Elle's October issue. "I haven't been on the Internet in months. I don't have my password for Instagram. I have no apps on my phone, no photo editing apps. I have Peak, a brain game." This from the woman who is the owner of Instagram's most followed account, with 142 million followers and counting.
"The reason why is, it's not real to me," she continued. "I know my voice is very prominent, but I'm not careless with it. I'm selective. As far as my personal life, someone sees me having a glass of wine? I could give two shits. I'm not trying to hide. That's my life. I'm living it the way I want to live it. But it's about making a conscious effort—if I can have a moment to be with my friends, I'll take that time. So I don't have any of it. I had to make that decision."
And the Internet's not the only place Gomez has left lately. The pop star told Elle that she's moved to Orange County from Los Angeles, which has afforded her new freedom from the public eye. She said, "It's been such a release. L.A.'s just gotten really claustrophobic for me. I can't do any of the things I do here in L.A. It's just impossible."
Gomez added that this is indicative of a larger shift in her life. "I think everything in my life is being majorly downsized, in a very good way," she said. "I'm going back to simplicity. That's always who I've been. It's not me saying, 'I feel the best I've ever felt.' It's me saying, 'I'm exactly where I am. And I'm so happy I'm in this place.' It's a lot of self-discovery. From 20 to 26? Oh my gosh. I feel like a totally different person."
But that doesn't mean she's stopped reaching out to people who matter to her personally. When asked about fellow Disney alum and childhood friend Demi Lovato's recent drug overdose and subsequent hospitalization, Gomez became choked up. "All I'm saying is, I reached out personally. I didn't do a public thing. I didn't want to. I…I love her. I've known her since I was seven. So…it's…that's what I'll say," she told Elle.