Selena Gomez Shares Instagram Photos From Her Summer
A great way to wrap up the summer.
---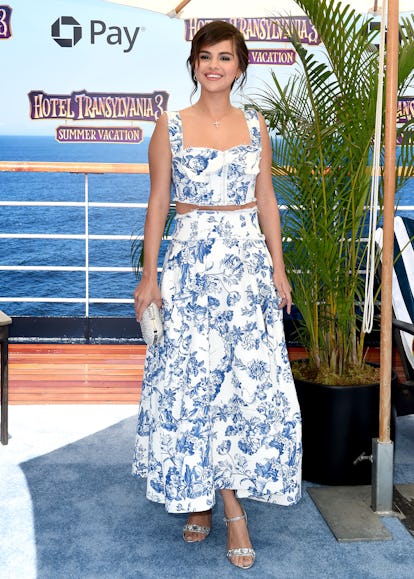 Photo courtesy of Getty Images.
Actually, Selena Gomez has been having a great summer, in case you weren't aware and she's only just now bothering to let you know by updating her Instagram. The singer departed from her usually more polished grid by posting a sunny album of sweet candids, selfies, and polaroids on Monday. Captioned "randoms and film," the album features Selena hugging a group of friends in a house; Selena smiling while lying on a fuzzy-looking throw; Selena posing in front of "Selenas Diner," which boasts "steaks, chops, and seafood" and "many saute dishes"; and Selena skipping down a cement road at dusk. Two of the friends are Austin Butler and Luka Sabbat, her co-stars in the upcoming Jim Jarmusch zombie vehicle, The Dead Don't Die, which indicates that filming is underway. (The Daily Mail has also published paparazzi photos of the singer shooting on set.)
The album comes just two weeks after she posted another rare candid album that offered fans a peek at her yacht-set, pasta-flowing birthday soirée. Less than a day after it went up, the post garnered almost 8.2 million likes. It's not hard to see why—the album features tantalizing glimpses into what it's like to celebrate one's 26th birthday as a pop star, with snapshots of a three-tiered cake, oversize confetti raining down from the ceiling, engraved silver-and-glass goblets, and, of course, a view of the waterfront and accompanying sunset that only a yacht could provide.
"Another year down.. Thank you for all the bday love," she wrote in the caption. "I couldn't be more appreciative of you and my best friends for celebrating with me. I love you guys like crazy! God bless!"
So any of you worried that a recent singer's whirlwind engagement to a model or another singer's rekindled romance with another model has gotten Selena's summer down, fret not — she's doing just fine, thank you very much.