What Will Selena Gomez's Coach Clothing Line Look Like? An Investigation.
The singer and actress revealed that she will be releasing clothing as part of her contract with Coach.
---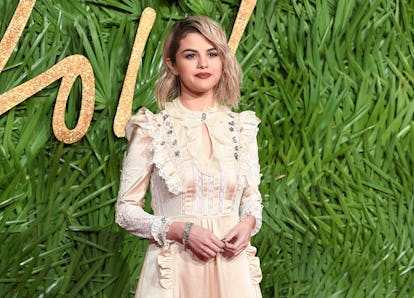 Photo by Karwai Tang/WireImage
Selena Gomez is a woman of many talents. She sings! She acts! She dances! And now, apparently, she designs(!). Yesterday evening, Gomez revealed that she will be collaborating with Coach, the brand she's served as the official celebrity face of for the past year, on a line of ready-to-wear clothing for the Spring 2018 collection. Gomez has previously collaborated on accessories with the label, but this will be her first time tackling clothes for Coach. "I am so excited to be working with Coach again," she said in a statement. "Getting to create my own collection with Stuart [Vevers] has been such a fun process, and I can't wait for everyone to see what we have been working on over the past several months."
Now, when it comes to celebrity fashion collaborations, there is a whole spectrum of previous examples, all with varying degrees of success, mass appeal, and just general quality of design. While something like Gigi Hadid's four-season collaboration with Tommy Hilfiger yielded four very entertaining fashion shows and a return to Hilfiger's logo-mania days, we've also seen Lindsay Lohan's outing for Emanuel Ungaro, heart-shaped nipple covers and all. So what will Selena Gomez's Coach collection look like? Let's break it down.
Here's what we know: The collection will be designed in tandem with Vevers, the brand's creative director who has helped transform the brand's New York Fashion Week runway show into a must-see. Already off to a good start there. "I always look forward to designing with Selena because she has a strong point of view," said Vevers in a statement. "We wanted to bring cool new ideas to the table and I loved getting her take on clothes as much as accessories this time around." The line apparently also "reflects Gomez's personal style, and each piece has touches that reflect her personality."
Let's dive deep into that last part. While many former child stars have trouble navigating their post-teendom wardrobe, Gomez successfully transitioned to a fashion-world-approved starlet thanks to the help of top celebrity stylist Kate Young. Young, who also works with Dakota Johnson, Michelle Williams, Sienna Miller, and Margot Robbie, began working with Gomez back in 2015, outfitting the star in high-fashion luxury brands like Valentino, Versace, and Saint Laurent, as well as edgier, smaller brands like Jacquemus and Brock Collection. (Prior to Coach, she also nabbed serious fashion credibility as the face of Louis Vuitton.)
With Coach's most recent collections under Vevers's tenure leaning more toward wearability than avant-garde, with a emphasis on strong outerwear, easy slip dresses, and novelty sweaters, it's safe to say that Gomez's collection will be heavily influenced by her street style looks, rather than red carpet moments—not that she's a slouch in that department, either. In that case, expect to see more of the brand's flirty print dresses, slouchy knits, and solid denim options—all very much in Coach's wheelhouse.
Of course, we can also look to Gomez's past designing endeavors. Yes, she helped to co-design her Coach dress for the Met Gala last year, but that doesn't tell us anything we don't already know—a slip dress, floral print, millennial pink, etc. No, to truly get to the depths of Gomez's fashion core, we need to go further back, all the way to 2010. Gomez was 18 years old, and had just launched her first clothing line: Dream Out Loud, carried exclusively by Kmart. Gomez described the line at the time to WWD as "pretty, feminine and bohemian," adding, "I want the pieces that can be easy to dress up or down, and the fabrics being eco-friendly and organic are super important." The tween-targeted range included boho dresses, floral printed tops, jeans, skirts, jackets, and some accessories such as scarves and hats, as was all the rage in 2010. And if we've learned anything from the Hadids and Jenners of the world, the early aughts are all the rage again, so it sounds like Gomez is already off to a good start.
Related: Francia Raísa Looks Back on Her Wild Year, Which Started By Donating a Kidney to Selena Gomez and Ended with a Starring Role on the Hit TV Series Grown-ish
Behind the Scenes of Selena Gomez's W Magazine Cover Shoot
Selena Gomez's Style Evolution, From Disney Days to Fashion Forward Superstar
Selena Gomez arrives to the 23 Annual IMAGEN Awards on August 21, 2008 in Beverly Hills, California.

Getty
Selena Gomez arrives at the Teen Choice Awards 2009 held at the Gibson Amphitheatre on August 9, 2009 in Universal City, California.

Getty
Selena Gomez arrives at the 2009 ALMA Awards at Royce Hall on the UCLA Campus on September 17, 2009 in Westwood, Los Angeles, California.

Getty
Selena Gomez arrives at the People's Choice Awards in Los Angeles, California on January 5, 2011.

Getty
Selena Gomez arrives at Nickelodeon's 23rd Annual Kids' Choice Awards held at UCLA's Pauley Pavilion on March 27, 2010 in Los Angeles, California.

Getty
Selena Gomez attends the "Justin Bieber: Never Say Never" Los Angeles Premiere at Nokia Theatre L.A. Live on February 8, 2011 in Los Angeles, California.

Getty
Selena Gomez arrives at The 53rd Annual GRAMMY Awards held at Staples Center on February 13, 2011 in Los Angeles, California.

Getty
Selena Gomez arrives at the Vanity Fair Oscar party hosted by Graydon Carter held at Sunset Tower on February 27, 2011 in West Hollywood, California.

Getty
Selena Gomez arrives at the 2011 American Music Awards held at Nokia Theatre L.A. LIVE on November 20, 2011 in Los Angeles, California.

Getty
Selena Gomez arrives at Nickelodeon's 24th Annual Kids' Choice Awards at Galen Center on April 2, 2011 in Los Angeles, California.

Getty
Selena Gomez attends the 2012 Nickelodeon Kids' Choice Awards at Galen Center on March 31, 2012 in Los Angeles, California.

Getty
Selena Gomez arrives at the 2012 Vanity Fair Oscar Party at Sunset Tower on February 26, 2012 in West Hollywood, California.

Getty
Selena Gomez arrives at the 2012 Teen Choice Awards at Gibson Amphitheatre on July 22, 2012 in Universal City, California.

Getty
Selena Gomez arrives at the 2013 Billboard Music Awards at MGM Grand Hotel & Casino on May 19, 2013 in Las Vegas, Nevada.

Getty
Selena Gomez attends the German premiere of 'Spring Breakers' at the cinestar Potsdamer Platz on February 19, 2013 in Berlin, Germany.

Getty
Selena Gomez attends the 2013 Vanity Fair Oscar party at Sunset Tower on February 24, 2013 in West Hollywood, California.

Getty
Selena Gomez attends the 2013 Teen Choice Awards at Gibson Amphitheatre on August 11, 2013 in Universal City, California.

Getty
Selena Gomez attends the 2014 LACMA Art + Film Gala Honoring Barbara Kruger And Quentin Tarantino Presented By Gucci at LACMA on November 1, 2014 in Los Angeles, California.

Getty
Selena Gomez arrives at the "Rudderless" – Los Angeles VIP Screening at the Vista Theatre on October 7, 2014 in Los Angeles, California.

Getty
Selena Gomez arrives at the 2015 Vanity Fair Oscar Party Hosted By Graydon Carter at Wallis Annenberg Center for the Performing Arts on February 22, 2015 in Beverly Hills, California.

Getty
Selena Gomez attends the premiere of 'Getaway' presented by Warner Bros. Pictures at Regency Village Theatre on August 26, 2013 in Westwood, California.

Getty
Selena Gomez attends the 2014 American Music Awards at Nokia Theatre L.A. Live on November 23, 2014 in Los Angeles, California.

Getty
Selena Gomez attends the "China: Through The Looking Glass" Costume Institute Benefit Gala at the Metropolitan Museum of Art on May 4, 2015 in New York City.

Getty
Selena Gomez attends the 2014 Vanity Fair Oscar Party hosted by Graydon Carter on March 2, 2014 in West Hollywood, California.

Getty
Selena Gomez arrives to the 2015 MTV Video Music Awards at Microsoft Theater on August 30, 2015 in Los Angeles, California.

Getty
Selena Gomez attends 2015 Glamour Women Of The Year Awards at Carnegie Hall on November 9, 2015 in New York City.

Getty
Selena Gomez arrives at The 58th GRAMMY Awards at Staples Center on February 15, 2016 in Los Angeles, California.

Getty
Selena Gomez arrives at the 6th Biennial UNICEF Ball at the Beverly Wilshire Four Seasons Hotel on January 12, 2016 in Beverly Hills, California.

Getty
Selena Gomez arrives at the 2015 American Music Awards at Microsoft Theater on November 22, 2015 in Los Angeles, California.

Getty
Selena Gomez arrives at the 2016 Vanity Fair Oscar Party Hosted By Graydon Carter at Wallis Annenberg Center for the Performing Arts on February 28, 2016 in Beverly Hills, California.

Getty