Selena Gomez Met the Pope While Vacationing in Rome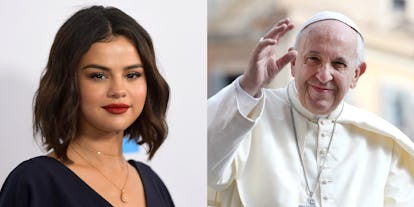 Composite. Getty Images
Now that summer is in full swing, get ready for plenty of fabulous celebrity vacations to overtake your Instagram feed. First up: Selena Gomez who jetted off for an enviable vacation to Italy with old friend and former TV brother on Disney's Wizards of Waverly Place David Henrie; his wife, Maria Cahill; and friend Raquelle Stevens earlier this week, but their trip got especially interesting on Wednesday, when the crew went to the Vatican and got some face time with Pope Francis.
Gomez and Henrie have remained close friends since their show on Disney ended, in 2012, and in recent days, they've been spotted around Italy taking pictures with fans. The day the crew met Pope Francis was documented on Steven's Instagram, first on the drive to the Vatican, where she says it's a "very special day" and Gomez adds "Pope!" while wearing an event-appropriate hat and veil.
Gomez can then be seen in a picture of the group approaching the Vatican.
Henrie carefully prepared for his time with the pope, captioning a picture of the moment on Instagram by writing, "I learned one very important request in Italian for the Pope to pray for me and my wife… Such an amazing experience today."
Meetings with the pope are not just reserved for pop stars and Disney celebrities, though. The Catholic leader holds a papal audience every Wednesday, and while Gomez and Henrie likely had tickets to get so close to the pope himself, the events are held in public at St. Peter's Square. And, according the Vatican's website, "Pope Francis has made it very clear that EVERYONE is welcome to attend (with or without a ticket)."
Shortly after the visit with the pope, the crew made the journey back stateside, with Henrie posting an Instagram Story calling the Italian excursion "the best trip ever with the best people ever."
Related: Justin Bieber and Hailey Baldwin Are Having Some Wholesome Fun in New York City