Selena Gomez Has Transformed Her Distaste for Social Media Into a Beauty Line
"You are not defined by a photo, a like, or a comment."
---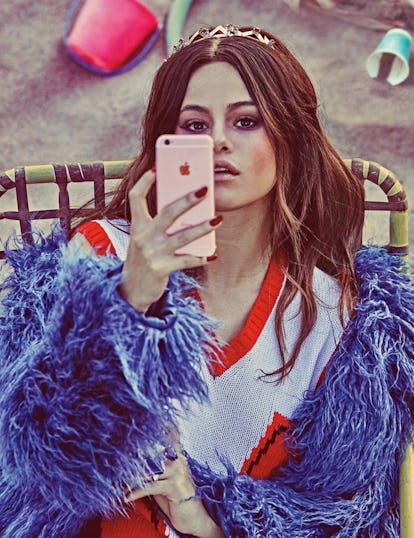 On Tuesday afternoon, Selena Gomez announced what's starting to seem like a rite of passage for pop stars: She—like Rihanna, Kesha, Lady Gaga, and Ariana Grande before her—is launching her own beauty line. "Guys, I've been working on this special project for two years," Gomez wrote on Instagram and Twitter, adding that Rare Beauty, the name of which is a nod to her new album, will be available at Sephora stores in North America starting this summer.
But this isn't just any celebrity beauty line—or at least Gomez and Sephora are hoping it won't be. The line was two years in the making, Gomez said, because it's "important" to her to "make a brand where you feel comfortable." Addressing her fans, she added: "I want your help to build the brand because I want it to be real [with] real stories and real people and just a place where people can feel like they're in a community. Where they don't feel pressure to look like anything but themselves."
That might sound ambitious, but it's nothing compared to what the brand itself is promising. "Rare Beauty will challenge society's definition of beauty that impacts our self worth," its CEO, Scott Friedman, told WWD. "It's time to stop comparing and to start embracing our own uniqueness. Everyone is different—and that's a good thing." On its Instagram, Rare Beauty took things even further up a notch: "Our mission is to shape conversations around beauty, self-acceptance, and mental health. We want to help people get more access to support and services, and help people feel more authentically connected to one another and less alone in the world."
Gomez has repeatedly tackled such topics for years now, ever since she started making it very, very clear that she no longer cares for social media. "I delete the app from my phone at least once a week," she told the New York Times in 2016, when she was the app's most followed user. "You fixate on the [negative comments]. They're not like, 'You're ugly.' It's like they want to cut to your soul. Imagine all the insecurities that you already feel about yourself and having someone write a paragraph pointing out every little thing—even if it's just physical."
From there, Gomez employed a variety of techniques to put some distance between herself and Instagram, which she once described as one of her "most difficult relationships." Along with making her account private and not knowing its password, as well as unfollowing swaths of users and taking a months-long hiatus from the internet, she eventually took a hiatus from social media altogether—one she reflected on upon returning to the spotlight last year. "It is not that healthy to be on it all the time because I noticed with me, I got kind of depressed looking at these people who look beautiful and amazing, and it would just get me down a lot. So I just think taking breaks is really important," she said on a podcast last April. "But just know that most of it isn't real. And I hate to say that, I don't mean to be rude, but it's very unrealistic in a lot of ways, and I think that for me, I want to protect the youngest generation because they are exposed to so much information, and I feel like that causes a lot of anxiety at the youngest age."
Fast forward to this year, and Gomez is repurposing those sentiments into copy for Rare Beauty. "Today, too many people feel trapped by unrealistic expectations that are impossible to achieve. @rarebeauty is about accepting who you are–and finding the beauty in your imperfections," the brand captioned a post that reads "You are not defined by a photo, a like, or a comment."
But apparently even Rare Beauty can't pretend that you aren't defined by a follower count. Rather than start anew, Gomez's team opted to repurpose her old tour Instagram, all but guaranteeing that @rarebeauty would instantly hit the 1 million mark.
Related: Selena Gomez Says Her "Most Difficult Relationship" Is With Instagram