Selena Gomez Has Reportedly Made a "Significant Donation" to the Time's Up Movement
It's allegedly an amount more than her A Rainy Day in New York salary.
---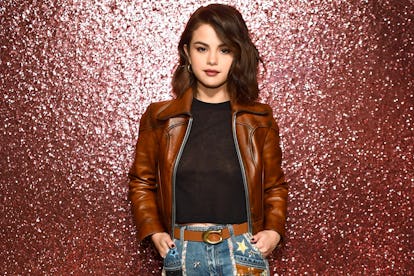 Dave Kotinsky/Getty Images
Shortly after Timothée Chalamet and Rebecca Hall pledged to donate their salaries from the upcoming Woody Allen movie, A Rainy Day in New York, to Time's Up, it seems Selena Gomez might be quietly following suit.
The 25-year-old actress has been under fire recently for working with Allen, who has been accused of sexually abusing his adoptive daughter, Dylan Farrow. Fans were especially angry about the director's latest film, given that one of the storylines reportedly involves a "middle-aged man who is sleeping with a much younger woman, among other actresses," according to Page Six.
Gomez's mom, Mandy Teefey, recently claimed on Instagram that she tried to talk her daughter out of participating in the project, but her concerns "fell on deaf ears." Now, People reports, that Selena made a "significant donation" to Time's Up, an organization committed to fighting sexual misconduct and gender disparity in Hollywood and other industries.
Though Chalamet and Hall both made public apologies for working with Allen in addition to announcing that they would donate their salaries from the project, Gomez has yet to come forth with any similar statements. A source tells People, however, that Selena's anonymous donation "far exceeded her salary for the film." Despite sidestepping questions about her choice to work with Allen in the past, Gomez publicly declared her support for Time's Up on the day the organization was announced. On Instagram, she wrote, "It's time to shift the balance in the workplace, from representing the few to representing us all."
Related: Selena Gomez's Mom Says Her Daughter"Can Make Her Own Choices," But She's Still Not Thrilled About Justin Bieber