New Mom Serena Williams Wins First Grand Slam Match Since Giving Birth to Alexis Olympia Ohanian
And she dedicated it to all the moms.
---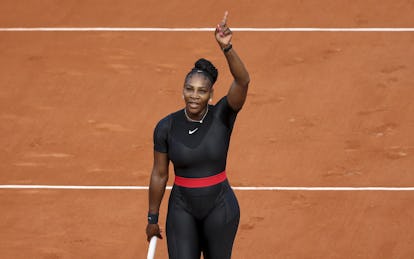 Jean Catuffe/Getty Images
Serena Williams may the closest thing we have to a real-life superhero. We already know she's the G.O.A.T., according to her male counterpart Roger Federer (and, largely, the internet). Today, she confirmed both when she defeated Kristyna Pliskova at the French Open, winning her first Grand Slam match since she gave birth to her daughter Alexis Olympia Ohanian eight months ago. Yes, eight months ago.
What makes that all the more impressive is knowing the health complications Williams faced when giving birth, which are revealed in her recent HBO mini-series Being Serena. The tennis legend almost died in September as she was bringing Alexis into the world with an emergency C-section. During the procedure, she developed blood clots in her lungs, which triggered coughing that ruptured the C-section incision. "It began with a pulmonary embolism," as Williams later recounted to CNN. "I returned to surgery, where the doctors found a large hematoma, a swelling of clotted blood, in my abdomen. And then I returned to the operating room for a procedure that prevents clots from traveling to my lungs. When I finally made it home to my family, I had to spend the first six weeks of motherhood in bed."
Appropriately, Williams dedicated her first Grand Slam match since the procedure to other moms who've gone through a similar experience, and to those whose transition into being a mom hasn't been the easiest. "Catsuit anyone?," she tweeted along with a photo of her wearing one on the court. "For all the moms out there who had a tough recovery from pregnancy—here you go. If I can do it, so can you. Love you all!!"
Shortly after, her husband Alexis Ohanian Sr. congratulated her on Twitter, and complimented her "superhero outfit."
In just eight months, Williams has clearly mastered the balance between her career and motherhood, something she plans on maintaining at least until she sets a new record for 25 Grand Slams (she's currently at 23). "To be honest, there's something really attractive about the idea of moving to San Francisco and just being a mom," she told Vogue earlier this year. "But not yet. Maybe this goes without saying, but it needs to be said in a powerful way: I absolutely want more Grand Slams. I'm well aware of the record books, unfortunately. It's not a secret that I have my sights on 25." At this rate, it won't be long until she's there.