Facialist Shani Darden's 7 Top Tips For Summer Skin
Chrissy Teigen and Rosie Huntington-Whiteley's beloved facialist shares her essentials.
---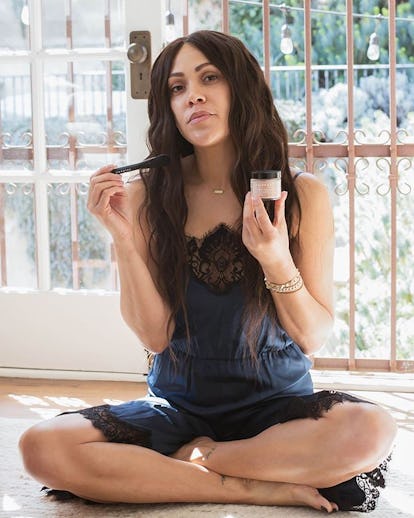 Courtesy of @shanidarden
We're in the midst of a summer like no other. Face masks and six-feet distances have eerily replaced sunscreen and tan lines as August's must-haves. But despite all that, no matter your personal comfort levels and where you live, one thing for certain should be on your mind: how to care for your skin.
Proper hydration, exfoliation, and pigmentation management are important—yes, even when you're staying inside. Here, the facialist Shani Darden—beloved by Jessica Alba, Rosie Huntington-Whiteley, and Chrissy Teigen—weighs in on this season's most essential skincare tips, from peels and DIY masks to simply going for walks.
Hydration
"If you're one of the many staying indoors for most of the day, it's important that your skin is hydrated even more than usual. Depending on your skin type and the other products you're using, exfoliating once or twice a week will help to keep your skin bright and glowing. It's essential to remove that dead layer on the surface so that treatment and hydrating products are able to properly absorb. One of my favorite hydration boosts is Dr. Nigma's Serum No 1. It's a hyaluronic acid serum with marine peptides and plant stem cells that hydrate on a deeper level and plump up the skin. I recommend using it in the morning before sunscreen, and at night before moisturizer."
Pigmentation and Sun Damage
"If you have melasma, it is so important to keep your skin protected from the sun! Sun exposure causes your melasma to come out, and the heat can lead to inflammation. That means whether you're sitting outside or even working out, protection from heat is essential. Inflammation from heat will cause your skin to overproduce melanocytes, which are the cells that produce melanin, which is responsible for the pigmentation of your skin. Keeping your face protected with an SPF of 50 or higher and a wide brim hat is essential when you're outside, but you have to make sure you're keeping your face cooled off, too. I like to use a fan and even spritz water on my face.
"In the morning, before sunscreen, I always use a vitamin C serum to protect against oxidative stress like pollution and damaging UV rays. One of my favorites is iS Clinical's Pro-Heal Serum, which is a powerful, effective formula, but still nourishing. An effective sunscreen I recommend is Supergoop's Play Everyday Lotion, which is SPF 50. It's lightly hydrating and won't cause any congestion. And to keep my routine simple and effective, it doubles as my daily moisturizer."
Summer Masking
"There are two masks I currently can't live without. I love Cosmedix Clear Mask for when I need to clear up congestion in the pores and gently exfoliate for brighter skin. It has Kaolin clay, sulfur, and salicylic acid all help to draw out impurities and decongest. There's also Dr. Dennis Gross's Hyaluronic Marine Modeling Mask, which is one of my favorite masks for hydration. It contains hyaluronic acid, which hydrates on a deep level and plumps up the skin. It also has glycerin which is a powerful humectant that draws moisture to the skin and helps it hold on to it. This mask is cooling as well so it can help to soothe and calm the skin, especially if you're now out and about outside."
"My favorite of all the DIY masks I recommend is a formulation consisting of Greek yogurt, egg whites, and honey. It's multi-tasking and can help treat blackheads, while hydrating and brightening the skin. I also like it for its simplicity, and everyone usually has these ingredients in their refrigerator. You separate one egg white from the yolk and whip up the egg white until it's frothy, add in a tablespoon of plain Greek yogurt and half a tablespoon of honey, and mix together. Apply to the face in an even layer and leave on for 15 minutes. The egg whites can help to clear out congestion to make pores less visible and firm up the skin. Greek yogurt is hydrating and also contains lactic acid which helps to gently brighten the skin for more even toned, glowing skin. Honey is antibacterial, soothing, and hydrating."
End-of-the-week Peels
"To clean up skin after a long week of exposure to blue lights or outside elements, I prefer the Dr. Dennis Gross Alpha Beta Peel Pads. They come in two strengths, which are both very powerful at removing the dead layer of skin on the surface and clearing out congestion in the pores for brighter, smoother skin."
Eye Care
"Because the eye area often gets drier this time of year, I usually go between two eye treatments: the Cosmedix Opti-Crystal Eye Serum and the iS Clinical Youth Eye Complex. They're both enormously hydrating and brightening. I tend to use Opti-Crystal in the morning and Youth Eye Complex in the evening."
Skincare From the Neck Down
"For optimal skin from the neck down, I sometimes I use the Necessaire Body Exfoliator in the shower. Other nights I will Environ Derma-Lac lotion for super smooth, glowing skin. Also, once a week, I take a bath with a DIY soak that I make at home out of Arm & Hammer Baking Soda, Lavender Essential Oil, and Epsom Salt. If you're out or sunbathing this summer, keep in mind that Aloe Vera is a great ingredient to soothe the skin after sun, but it's so important to make sure you're wearing sunscreen as well. Don't forget to keep reapplying it to keep skin protected and safe from sunburns. Skin cancer is one of the most common cancers and can be prevented by wearing sunscreen. I always have Supergoop's Play Everyday Lotion next to me when I'm outside."
Skin and Sanity
"One of the things keeping me centered every day is walking. I've also been doing Peloton rides. Releasing some of that nervous energy really helps in these scary and uncertain times and it allows me to be more focused and present for my family and my business which is even more essential right now. Keeping a dedicated skin care routine always keeps me centered as well—with all of the uncertainty right now, it helps to have something consistent."
Related: Socially Conscious Beauty Brands to Add to Your Medicine Cabinet