The Speculation About Shawn Mendes's Sexuality Is Making Him "Sick"
The singer gets real about the rumors—very begrudgingly.
---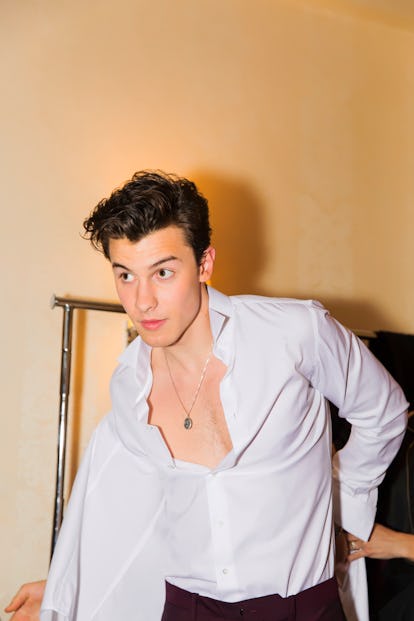 LEVI MANDEL
In case you haven't come across the many memes and videos scrutinizing his body language, there's a whole swath of the Internet that's convinced (and even obsessed with the idea) that 20-year-old singer Shawn Mendes is gay. If there's anyone who's aware of that, though, it's Mendes, who's repeatedly (and begrudgingly) addressed those rumors head-on—most recently, thoroughly, and prominently in his new Rolling Stone cover story, which is largely devoted to exploring how "outing him has become a spectator sport."
The story begins with Mendes "scrolling through photos online" looking at celebrity couples like Justin Bieber and Hailey Baldwin. It's that pastime that on one occasion, he recalled, prompted him to think, "I have to get paparazzied with someone. Who am I gonna get? I'm not relevant"—and then immediately respond to himself with another thought: "Ugh, you fucking idiot. Why did you think that?'"
But unfortunately for Mendes, there are plenty of understandable reasons as to why he would think that. To start, he's a self-described "extremely neurotic" 20-year-old who feels the pressure of social media just like anyone his age. He also constantly second-guesses himself and says that his "worst fear" is "to wake up tomorrow" and discover that "nobody cares." (Never mind that he has three No. 1 albums under his belt, will play nearly 100 stadiums next year, and was himself in a relationship of sorts with Baldwin just a month before she and Bieber became engaged.)
And then, of course, there's "this massive, massive thing for the last five years about me being gay." Mendes, it turns out, appears to be just as obsessed with the speculation about his sexuality on Twitter—his only recent search, in fact, is his own name. In other words, as he put it: "I'd like to say I don't care about it, but that's not true."
Mendes has addressed "this massive, massive thing" head-on before. Last Christmas, he posted a Snapchat story telling his millions of followers that "I noticed a lot of people were saying I gave them a 'gay vibe.' First of all, I'm not gay. Second of all, it shouldn't make a difference if I was or wasn't." The statement came after he'd been reading some comments on YouTube and found himself thinking, "You fucking guys are so lucky I'm not actually gay and terrified of coming out. That's something that kills people. That's how sensitive it is. Do you like the songs? Do you like me? Who cares if I'm gay?"
But Mendes, unfortunately, does care. "In the back of my heart, I feel like I need to go be seen with someone—like a girl—in public, to prove to people that I'm not gay," he said. "Even though in my heart I know that it's not a bad thing. There's still a piece of me that thinks that. And I hate that side of me."
From the sound of it, it also tortures Mendes, who seems to be at a loss for how to deal with the situation. He's been second-guessing not only his talent but also his decisions, like mindlessly giving Taylor Swift the go-ahead when she texted him to ask if it was cool for her to post a throwback clip of her applying glittery eye makeup on his face. Later that night, though, he woke up in a cold sweat: "I felt sick. I was like, 'Fuck, why did I let her post that? I just fed the fire that I'm terrified of."
But, as is apparently usual, Mendes now has mixed feelings about that decision; it prompted him to recall how he himself used to put glitter on his face, in an effort to make his parents laugh, and grew up braiding hair and painting nails with his 15 female cousins. "Maybe I am a little more feminine—but that's the way it is. That's why I am me," he reflected.
Not that that makes him any more comfortable with women these days. The sight of three "cuties" wearing bikinis, for example, prompts Mendes to remark to the reporter, "Dude, I have no game."
His 25-year-old head of marketing, though, made the case that that could easily change any day now: "All Shawn has to do is open up his Instagram DMs, see all the blue check marks and choose. But it doesn't happen often."
"Maybe now that I'm 20," Mendes responded. Indeed, he's already taking some baby steps: "I said 'fuck' onstage the other day. That was a big day," he said, adding that he "immediately felt bad about it."
Related: Shawn Mendes Opens Up Before His First Met Gala About His Friend Hailey Baldwin, Being a Romantic at Heart, and His New Music