Sofia Coppola Has Never Heard of the Bechdel Test, But All of Her Movies (Sort of) Pass It
A Bechdelian examination of "The Beguiled," "Lost in Translation," "Somewhere," and the rest of Sofia Coppola's filmography.
---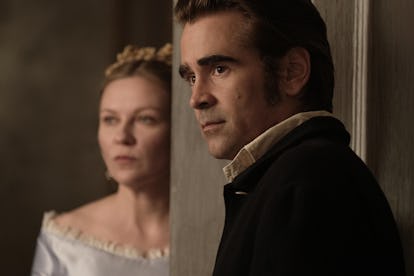 Last month, Sofia Coppola became the second woman ever in the 70-year history of the Cannes Film Festival to win Best Director for her film The Beguiled—an honor that was widely applauded as progress for the movie industry, especially given the film's much talked about female gaze. (Not to mention that the award was presented at a festival where, after seeing all 20 of its films in competition, jury member Jessica Chastain's biggest takeaway was that the films' collective representation of women onscreen was "quite disturbing.")
It's a little surprising, then, that The Beguiled in fact barely passes the Bechdel test. To review, quickly: In order to pass the Bechdel test, a movie must feature (1) at least two women in it (2) those women talk to each other (3) they talk about something other than a man. More surprising still is that until her interview with GQ this week, Coppola had never heard of the test, responding to an interviewer's questions about it with, "What's that?"
"I guess I never studied film," Coppola, whose father is of course Francis Ford Coppola, added. "That's so funny, but there are a lot of women talking about a man in this."
Coppola is right on that count: The film lasts all of about two minutes before it is entirely consumed by the presence of a wounded Union soldier, who takes up residence in a Civil War-era all-girls boarding school helmed by Nicole Kidman and Kirsten Dunst. From then on, it plays host to constant sexual tension, including a daringly flirtatious Elle Fanning.
The Beguiled is actually a remake. Coppola recast the male-centric 1971 version starring Clint Eastwood with her usual leading ladies, and rewrote it to tell the story from their perspective. Though the movie sets out to focus on the women, their isolation during the Civil War, and their objectification of a man, played by a dashing Colin Farrell, his presence eventually consumes the narrative.
A Guided Tour to Sofia Coppola's Inspirations by Sofia Coppola Herself
"Me and my producer Youree Henley filming The Beguiled in New Orleans. He understands what's important to me—all the details. He makes it happen and keeps it fun. I wanted a work uniform, so Julie de Libran at Sonia Rykiel made this jumpsuit for me."

Courtesy of Sofia Coppola
"It was so great to work with Colin Farrell and Nicole Kidman. Colin was a good sport about being our token male, and you can't take your eyes off Nicole!"

Courtesy of Sofia Coppola
"Here is Kirsten Dunst as the teacher at the Farnsworth school in The Beguiled, with her students, played by Angourie Rice, Elle Fanning, Addison Riecke, and Emma Howard."

Courtesy of Sofia Coppola
"A William Eggleston photo (Untitled, 1974) that I had in mind when shooting some of the girls in the film together."

Copyright Eggleston Artistic Trust, Courtesy of David Zwirner, New York/London
"Working with Elle is always a pleasure. It was fun to see her walking around in those frilly skirts."

Courtesy of Sofia Coppola
"I also love this photo, Woman with Blue Bow, by Jo Ann Callis, from 1977. I saw it in the newspaper and ordered her book Woman Twirling. It reminded me of the feeling of femininity and frustration I wanted to achieve in The Beguiled."

Courtesy of Rosegallery and the Artist
"I took this snapshot on the set of The Beguiled, with my Contax T2."

Courtesy of Sofia Coppola
"This photo of Bill Murray always makes me smile."

Courtesy of Mark Seliger/Condé Nast
"The artist Sara Cwynar's Picture of Pens, 2015, is currently on the bulletin board in my office."

Courtesy of the Artist and Cooper Cole, Toronto
"Fiorucci was my favorite label as a kid, and I'm so excited it's being revived with designs from the archives. The graphics, which were always amazing, are being collected in a new book. "

Courtesy of Fiorucci Archive
"Romy Schneider, in Chanel, in Visconti's The Job (1962)—her style in this film is the best! I would love to lounge around a palazzo like that."

Alamy Images
"When Cartier asked me to do a commercial for the Panthère watch I instantly thought of Hutton and that era of sophisticated and glamorous women in the late '70s/early 
'80s, around the time the watch first came out. (Those were the women I grew up admiring.) The Australian actress Courtney Eaton, who is so cute and nice, and is so natural in front of the camera, played the Panthère woman. It's a fantasy day in her life."

Courtesy of Cartier
"Lauren Hutton with Richard Gere in American Gigolo, another favorite of mine!"

Alamy Images
"When Calvin Klein approached me about the project, I thought about the Sam Haskins books I loved when I was in my 20s. [An image from the photographer's Five Girls, 1962, above.] I found my old books and used them as a starting point to create the mood I was going for."

Courtesy of The Sam Haskins Estate 2017
"I took this photo on the set of an underwear commercial I did for Calvin Klein. It was fun to think about how to do an underwear campaign that could be sexy and playful without being embarrassing. I was so glad to be able to cast great women I like and who are all smart and cool."

Courtesy of Sofia Coppola
"I took this photo on the set of an underwear commercial I did for Calvin Klein. It was fun to think about how to do an underwear campaign that could be sexy and playful without being embarrassing. I was so glad to be able to cast great women I like and who are all smart and cool."

Courtesy of Sofia Coppola
In short, The Beguiled passes the Bechdel test, but let's agree that it does not do so with flying colors. And how does the rest of Coppola's filmography fare? Let's see.
The Virgin Suicides (1999)
Coppola's feature-length debut re-engineered Jeffrey Eugenides's novel—which had a chorus of teenage boys tell the story of the five sisters at its center—so that Kirsten Dunst and co. actually narrate things from their POV. So far, so good, despite the fact that their mother, Mrs. Lisbon, doesn't seem to have a first name.
Lost in Translation (2003)
A relationship between a young 20-something played by Scarlett Johansson and a middle-aged actor played by Bill Murray grows intensely close, though never overtly romantic. Johansson and Anna Faris make small talk, though unspoken tension about a man (Giovanni Ribisi) hangs over their chatter. We'll give it a pass, but on a technicality.
Marie Antoinette (2006)
History made it easy for Coppola when it came this historical drama about France's empowered though ill-fated former ruler, played by Dunst. Solid pass.
"Somewhere is the first movie I've directed since having a kid. I have pictures of me on my dad's lap on the set of the Godfather II and my daughter Romy visited the set one day. We were shooting Stephen and Elle having burgers in the lobby. Romy said "When Mama says actiong we have to be quiet."
"During the Lost in Translation promo, I stayed at the Chateau Marmont for two weeks. Colin Farrell was taying there then, and I thought of him and a bunch of actors I've met when writing the character of Johnny Marco. Later in the film, when Johnny's dirfting back to his movie-star-around-the-hotel life."
"There's a Bruce Weber photo of Matt Dillon in bed that inspired Johnny Marco's style. For Somewhere I was thinking about photos by Helmut Newton. Helmut lived at the Chateau Marmont in the winter in Room 49. Stephen's charcter lives in the same room, a floor above."
"Stephen took his job seriously, practicing Guitar Hero for hours — I think they're playing a song by the Police here. Stephen stayed in Room 69 during the shoot. He was in character the whole time."
"I met a ton of young actresses for the role of Cleo. Elle was the first girl we met, we kept comparing all the other girls to her. In this scene, she's being dropped off at camp in Nevada. I didn't give her much direction because she's so natural."
Somewhere (2010)
Of all of Coppola's films, Somewhere comes the closest to flunking the Bechdel test. The film features Stephen Dorff as an actor living at the Chateau Marmont who is struggling to connect with his 11-year-old daughter, played by Fanning—and only passes the test if you count a strained conversation between Fanning's character and a woman Dorff's character sleeps with that briefly touches on scooters.
The Bling Ring (2013)
Coppola's last feature-length release before The Beguiled tells the real-life story of a group of teens who robbed celebrity homes with a cast of almost entirely female actors. (Even if Coppola was criticized for whitewashing the cast—a criticism that's plagued her over the course of her career.)
Basically, all of this goes to support Chastain's argument at Cannes: "When we include more female storytellers, we will have more of the women that [we] recognize in our day-to-day life—ones that are proactive, [that] have their own agency, [that] don't just react to the men around them. They have their own point of view." In other words, a movie made by a woman will more often than not pass the Bechdel test—even if it does so unwittingly.
Related: Kirsten Dunst Will Not Lose Weight for a Movie, Even For Sofia Coppola