Sofia Vergara Has a Lookalike Niece Named Claudia Vergara
Meet the latest Vergara family member you should be following.
---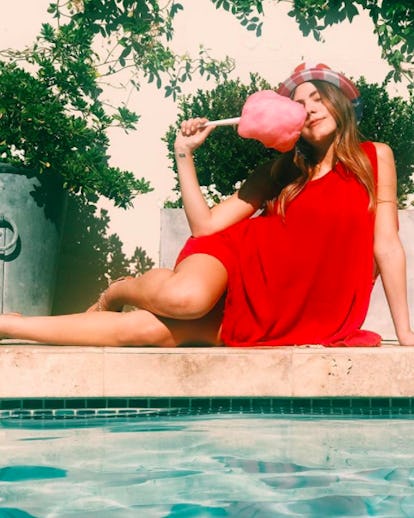 instagram.com/cdvergara
Just when you were deep in the Instagram feed of Sofia Vergara's hot model son Manolo, who quite possibly upstaged his mom at the 2017 Emmys red carpet, the actress has another family member you should be paying attention to. The Modern Family star's 25 year old niece Claudia Vergara could easily be her doppelgänger.
In fact, they both seem to have a similar red carpet style as Claudia attended this year's Emmy awards with her long brunette hair flowing and in a bodycon red lace dress with matching red lipstick. While Vergara wore a different look this past awards show — she opted for a white floor-length gown with magenta lipstick and a high ponytail showcasing her then-newly cut bangs — Claudia's look is no doubt one Vergara would wear herself, and similar to ones she's worn in the past. Meanwhile, the man pictured alongside Claudia is an entrepreneur, who is apparently involved with the young Vergara, People reports.
"Front view. I take this emoji very seriously? #redonredonred #emmys2017," she captioned another shot of her Emmys outfit.
Even though Claudia's name might not ring a bell yet, the Los Angeles-based socialite has already graced the cover of at least one magazine: ¡Hola! Colombia. Her resemblance to Vergara is even more blatant on the cover where she wears her hair in long flowing waves à la her aunt, Sofia. "Happy to be part of this @hola_col edition and happier to share it with you!," she wrote on Instagram, as translated by Google, in the caption of her cover shot. "Do not miss it! Infinite thank you."
Taking after her aunt, Claudia has already made her fashion show debut as well, as she attended a couple in Miami during the city's fashion week this past summer, which she posted about on Instagram.
She's just as active on the social media platform as well, often posting her outfits of the day and her travels from Miami to the tropics, as she visited with Sofia and Manolo this past May.
When she's not traveling or taking in fashion shows, Claudia is also making appearances at events.
Or, indulging in her favorite snack — judging by her Instagram — cotton candy.
Related: Sofia Vergara Just Launched a New, Empowering Brand of Underwear that's Comfortable, Cute, and Sexy Enough for the Emmys
9 Famous Kids Who Ruled the Runway at New York Fashion Week 2017:
Meet New York's Most Stylish Latinos
"When my family and I first moved to New York, we took an apartment that happened to be across from a roller-disco and right around the corner from Studio 54. My introductory years in New York were a fantastical time filled with school, drag queens, and dance parties. My parents were lively and fun and never snobbish. I spent so much time in that roller-disco as a young child, and listened to the music from Studio 54 through the wall next to my bed. It filled me with enchantment and fantasy."

Hans Neumann and Gabriel Rivera-Barazza, courtesy of Damiani
"When I was twenty, I was on a flight to Miami with Anna Wintour. The whole flight I was trying to muster the courage to talk to her. So I wrote her a note in a napkin with my art school markers, telling her that I was a student at Parsons, I had just moved to New York, and I was trying to get a foothold in the fashion world. I walked up to her and tapped her on the shoulder, but she didn't move. So I lifted up her coffee cup and put my note underneath. Three weeks later, someone from Michael Kors's office called me to say that they had gotten a message from Anna that they had to meet me. So I got an internship at Michael Kors."

Hans Neumann and Gabriel Rivera-Barazza, courtesy of Damiani
"Being an art director sounds very glamorous. I get emails from students all over the world saying, 'I'd love to be an art director. It sounds amazing!' Sometimes I do take interns, and when we spend whole days at the office until late hours they say, 'Oh! It's an office job!'"

Hans Neumann and Gabriel Rivera-Barazza, courtesy of Damiani
"I started my career in New York. Diana Vreeland gave me the impetus to become a fashion designer. I told her that I wanted to become a textile designer, and she said, "That is so boring, do something else!" That was my 'Aha!' moment."

Hans Neumann and Gabriel Rivera-Barazza, courtesy of Damiani
"The whole of Manhattan was our school and laboratory. I [Rubén] met Andy Warhol while I was still in high school and working at Fiorucci, the legendary shop that was the daytime office of Studio 54. Andy, Keith Haring, Kenny Scharf, Jean-Michel Basquiat, and many other artists taught us by example. Each one was an individualist and did things their own way — watching them living as working artists was an education in itself."
"I grew up traveling between the Dominican Republic and Spain. Both of my parents were always attracted to the arts — my father studied architecture and my mother painted. I actually studied architecture at Notre Dame, but I turned to fashion when Oscar de la Renta offered me an incredible opportunity. I met him in Punta Cana, through a friend, and he looked at some of my sketches. He encouraged me to come to New York to do an internship at his fashion house when I finished school."
"When I was growing up in Brazil, my mom manufactured children's sweaters. She started out sewing herself, but over time her business became a small company that employed a lot of women in the area – at one point there were about 215 employees, which was a lot in our small town. We had a very rigorous schedule. My siblings and I would go to school, have lunch, and then we all had to go to the factory. We all learned that somehow all of us had to be doing something all the time."

Hans Neumann and Gabriel Rivera-Barazza, courtesy of Damiani
"For almost a year, I lived in my studio in Bushwick, Brooklyn. It had a beautiful view of the Manhattan skyline. I set up a corner with my mattress, and that was my living space. I created my own little shower. Everything had to be very discreet, so I took a hula-hoop and connected it to the wall, attached a curtain to it, and placed a big bucket beneath. I bought one of those canteen shower bags and put it on the wall and would heat some water to take a shower. It was freezing, but I was so excited about my art."

Hans Neumann and Gabriel Rivera-Barazza, courtesy of Damiani
"My father left Chile first, after the coup d'état. Then my family was taken out by the United Nations and went to Peru, and later we became political refugees and got asylum in England.I came to New York first in 1996 from Paris."

Hans Neumann and Gabriel Rivera-Barazza, courtesy of Damiani
"My family and I moved to Florida in the early 1980s, after living in Cuba, where I was born, and Puerto Rico. Those were the golden years of the hip-hop era. Breakdancing was big, hip-hop, and what we called at that time writing. Everybody was writing their name and making art on walls, in school, around the neighborhood, and pretty much all over."

Hans Neumann and Gabriel Rivera-Barazza, courtesy of Damiani
"I was very fortunate to be part of a family that loved traveling, and a lot of my style influence came from those experiences. My parents used to take me out of school in Barranquilla to travel to places such as New York, Paris, Japan, India, and Italy. I would complain to my father that I was a month behind in math, and he would look at me and say, 'But you saw the world! There's always time to catch up on long division!'"

Hans Neumann and Gabriel Rivera-Barazza, courtesy of Damiani
"I grew up in a very Cuban environment. Everything that I knew, from the music to the food to the people was Cuban, Spanish, and Puerto Rican. It was a very rich mix of Latin cultures, and I still keep in touch with many of the people from my childhood. In Latino culture there's a great appreciation for women, and that was essential for me. I've always wanted to celebrate my heritage."

Hans Neumann and Gabriel Rivera-Barazza, courtesy of Damiani
"I thought that Piss Christ was only a photograph. It is only a part of me, and I don't feel there's anything shocking, provocative, or controversial about me; it's just the way I am. I am always surprised when some people feel like you've done something where you crossed the line, because I don't see that line as an artist."

Hans Neumann and Gabriel Rivera-Barazza, courtesy of Damiani
"I wasn't groomed for a career in fashion. I don't really look at people as stars. I look at people as people, and I think they appreciate that. So when I meet celebrities, I am not scared. I am thrilled to be there, with someone that I respect and admire for his or her talent. I did Yves Saint Laurent's farewell television show in France, and some of my favorite models were there, people like Jerry Hall and Katousha. I think it was the highlight of my career."

Hans Neumann and Gabriel Rivera-Barazza, courtesy of Damiani