Surprise: Solange Knowles Drops Powerful New Music and Even More From A Seat at the Table
See and hear the singer and now performance artist's latest new releases, in conjunction with an exhibition about black power at London's Tate Modern.
---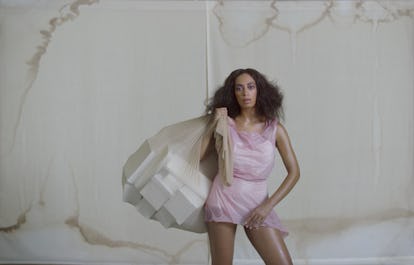 Solange Knowles Ferguson may have symbolically deleted her Twitter account earlier this month following yet another outbreak of racially charged violence in America, but the singer and performance artist is also activating herself in response: She's announced no less than five upcoming projects this week, in keeping with her powerful new identity as a performance artist, which she debuted to great success at the Guggenheim Museum earlier this year.
In the last few days, Solange has revealed that she'll be performing the latest version of "Scales," a combination of arrangements from her 2016 album A Seat at the Table, against the striking backdrop of an installation by the artist Donald Judd at the Chinati Foundation in Marfa, Texas, and announced a new performance art-and-music series titled "Orion's Rise" that will travel from Washington, D.C. to New York to Berkeley. And early this morning, Solange is only building more anticipation for those shows. Since surprise drops run in the family, she just released "Seventy States," an online "dossier" that provides an exclusive look at more unreleased content from A Seat at the Table, as well as presenting the internet with new music, new poetry, and a completely original performance that is in conjunction with the Tate Modern museum in London.
You can see the whole digital package here, on the Tate's website. (Scroll all the way to the bottom to hear the new music.)
All that coincides with the museum's current exhibition "Soul of a Nation: Art in the Age of Black Power," which traces the influential yet often unsung black artists that have emerged in—and made their mark on—America since the Civil Rights Movement, ranging from paintings by the beloved late artist Barkley L. Hendricks to "sculptures made with Black hair, melted records, and tights." Solange has not only long admired Hendricks, but A Seat at the Table made a point to capture what it's like to be young and black in America right now.
It was also a celebration of blackness, an antidote to hate, and an expression of the right to feel it all all at once. And now, by some Saint Heron-ly miracle, there's even more of it to experience: Solange has provided an exclusive look at her unreleased performance pieces and concepts, along with what plenty of outtakes, for her music videos for "Cranes in the Sky" and "Don't Touch My Hair" in what she's calling a "one-off digital display on the exploration of visual language."
"I wanted to create a specific scenography through movement and landscape to communicate my states of process through this record, I decided to do this through a visual language," Solange said in a statement.
Let's not forget that there's also new work, too: "We Sleep in Our Clothes," her latest original performance, also includes Solange's original score—aka new music—and two untitled poems. The performance comes complete with an installation by the Brazilian artist Ricardo Basbaum and contributions from Carlota Guerra and Alan Del Rio Ortiz, which online viewers may want to consider taking in while dressed in all white, sans cell phone, to really feel like they're experiencing a Solange piece.
If all that somehow doesn't sate you, though, you're in luck: Along with the two new poems, Solange also made a point to include the lyrics to "Weary," in which she confesses to feeling "weary of the ways of the world." But she also takes care to include this line from the song no less than five times, from the beginning of which she's pointedly removed the word "Like": "I'll be back real soon." It's a promise.
See Solange's "A Seat at the Table" Album Art
Courtesy of Solange Knowles.
Courtesy of Solange Knowles.
Courtesy of Solange Knowles.
Courtesy of Solange Knowles.
Courtesy of Solange Knowles.
Courtesy of Solange Knowles.
Courtesy of Solange Knowles.
Courtesy of Solange Knowles.
Courtesy of Solange Knowles.
Related: Solange Knowles Re-Introduced Herself as a Powerful Performance Artist at the Guggenheim
See Kendall Jenner, Performance Artist, Channel Icons Like Marina Abramovic and Yoko Ono: