Sophie Turner Chopped Off All Her Hair And Dyed It Ice Blonde
Winter is coming for her icy blonde hair.
---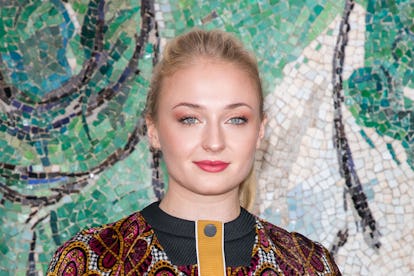 Marc Piasecki/Getty Images
Sophie Turner looks like Sansa Stark no more. The Game of Thrones star shared a full hair makeover on Instagram on Thursday afternoon, trading her strawberry shaded hair for an icy blonde (because apparently, winter is coming…for her hair?). She also chopped off a few inches from her great lengths, and is now rocking a shoulder-skimming lob.
Stylist Christian Wood, who was responsible for the transformative cut, teased the new look on his own Instagram feed. "Guess who's getting a big transformation today with @wellahairUSA?" he wrote alongside a Boomerang video of his scissors trimming the back of a mystery blonde's hair.
"She had the long hair for many years and this was the first time we could really cut it short," Wood told W in a statement.
And as for the color change? "I wanted to give her a color that was young and fresh," Turner's colorist, Wella Professionals Global Top Artist Sonya Dove Sonya Dove added. "The cool tones bring out her blue eye color and her new cut gives her hair a bit of an edge that I think is perfect for this moment in her life."
Turner is, understandably, already obsessed with her new platinum look. "I love my hair, it's a total transformation for me, I feel like it's a whole new side to my personality, it's fun and fresh—it's like the real me!" Turner said.
Though Turner is a natural blonde, fans of hers likely wouldn't know it. She dyed her hair red when she was 13 to play Sansa Stark on Game of Thrones, and her look has come to be defined by her lust-worthy auburn strands. But while it's an iconic hairstyle now, originally the idea of going red was terrifying for the young actress. "I was a little skeptical about it," Turner told W last summer. "Being a thirteen year old girl and going red, of course you kind of get mercilessly teased about it, but I spoke to the producers before I got the role and they explained to me that it is so integral to the part and her ancestry and it's a subliminal message to the audience about her mother and Robb and then Ayra's closeness to Jon and her father. Once they explained, I realized it was kind of amazing that for my first role, I got to transform myself. That was pretty cool."
[#undefined: undefined]
Related: For Sophie Turner, the Scariest Part of Playing Sansa Stark in Game of Thrones Was Dying Her Hair