Stefano Gabbana Is Trying to Start Another Feud on Instagram, This Time With Dior
His latest shade target: Maria Grazia Chiuri's most recent Dior couture collection.
---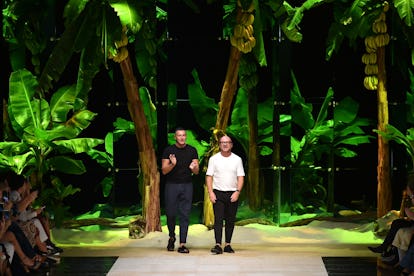 ALBERTO PIZZOLI/Getty Images
On Monday, Maria Grazia Chiuri presented her second couture collection for Christian Dior. This year, the house celebrates its 70th anniversary, and to mark the occasion, a retrospective, "Christian Dior: Couturier du rêve," is up at Paris's Musée des Arts Décoratifs—a museum that also hosted a retrospective on the brand's 40th anniversary, in 1987. At Chiuri's couture presentation, a who's-who of the brand's ambassadors and biggest fans, including Bella Hadid, Jennifer Lawrence, Natalie Portman, Cara Delevingne, and Karlie Kloss, all paid their respects.
But not everyone was celebrating, it seems: Afterwards, when Anna Dello Russo, editor-at-large of Vogue Japan, posted an Instagram of the show's finale, Stefano Gabbana of Dolce & Gabbana swooped in and commented, "ha sbagliato tutto come al solito"—which roughly translates to, "she's gotten it all wrong as usual," and presumably refers to Dior designer Chiuri.
Other Instagrammers have hopped into Dello Russo's comments to respond to Gabbana. "Stefano is getting brave since he's been showing us the same boring collection for years now," the user @altuzara—not to be confused with @altuzarra—wrote.
Instagram, it seems, is Gabbana's preferred method of stirring up drama. He frequently pounces on perceived copycats, Miley Cyrus, and pretty much anyone who has criticized his open support of and fondness for dressing Melania Trump—or any of Dolce & Gabbana's designs, in any context. (Gabbana's penchant for firing off haphazard shots on Instagram does, in some ways, resemble Melania's husband's own use of Twitter.) Occasionally, he even pops up to apologize—for body-shaming Lady Gaga, for blatantly plagiarizing Vivienne Westwood. But unlike his previous targets, it's not entirely clear what Gabbana's beef is with the current creative director of Dior—as New York magazine's The Cut noted, this could be Gabbana's first criticism of a fellow designer's collection that doesn't allege it's a Dolce & Gabbana ripoff. He's just not a fan.
Meanwhile, Dolce & Gabbana's own couture show, Alta Moda Palermo, takes place Thursday.
Riz Ahmed's first kiss was on stage, and he didn't know what he was doing: