A New Sex and the City TV Series Is Actually Coming, Whether You Want It or Not
It's all about life after 50.
---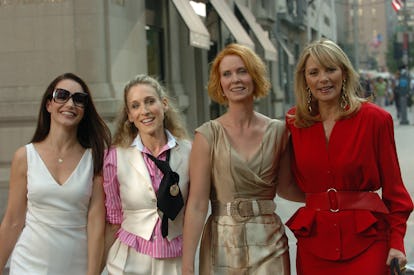 Richard Corkery/NY Daily News Archive via Getty Images
After what felt like an eternity of back-and-forth over a possible third Sex and the City movie, it seems as though the franchise has found a way to move on after all. The next iteration of SATC won't be a film though; it will be a TV show. Candace Bushnell, whose book Sex and the City became the basis for the hit HBO series, has a follow-up book coming out this summer, and she's already sold the rights to it to Paramount Television, as Variety notes.
The book, which is out August 6 on Grove Press and called Is There Still Sex in the City?, will have a different vibe from the original. For one, it's all about life after 50. Taking place in both New York City—specifically, the Upper East Side—and the countryside, Bushnell's SATC book sequel will be more about the dissolution of relationships than the beginnings of them. There will be considerably less morning-after brunch gossip and, instead, more heavy talks about divorce, children, and bereavement, according to Variety. (A script for the third movie had Big dying of a heart attack, for what it's worth.) Plus, it will also shed a critical light on the impossible beauty standards women face even as they get older.
Still, there's plenty of witty optimism to go around, as Nicole Clemens, president of Paramount TV, said in a statement. "The original Sex and the City book and series served as a groundbreaking touchstone for an entire generation of women, myself included," as she put it. "We're thrilled to be able to continue that conversation from the underrepresented point of view of women in their 50s and answer the question with, 'Yes! There is more sex in the city!"
This time around, Bushnell will be writing the pilot script and executive-producing, and there's no mention of the involvement of anyone connected with the original series. Indeed, you can expect a whole new cast of characters this time as well. Though considering the actual book won't come out until August, it's unclear what characters populate Is There Still Sex in the City? According to the official description, the book will deal with topics like "dealing with the flirtations of younger men, using Tinder as a divorcée, and vaginal restorative surgery," and it seems like those stories will be channeled through a whole new crop of women.
Sarah Jessica Parker's Style Evolution from the '80s to Today
Sarah Jessica Parker circa 1987 at a premiere party in Hollywood wearing black pants, a bra top and jacket.

Getty Images
Parker wears red velvet pants, a gold bra covered with a patterned jacket, and isn't afraid to show some skin at a movie premiere in Los Angeles in 1991.

Getty Images
SJP wears a pale pink mini dress to VH1's Vogue Fashion Awards in 1997.

Getty Images
SJP arrives at a party for the Emmy's in 2000 wearing a pastel pink feathered dress.

Getty Images
Walking the red carpet at the 2001 SAG Awards wearing an embellished bra top and navy skirt set.

Getty Images
SJP wore a black bustier, leather pants, and a red lip to the 2003 Golden Globes.

Getty Images
SJP accepted an Emmy in this strapless black dress in 2004.

Getty Images
Wearing a trench coat and black boots in 2005 while stepping out in London.

Getty Images
SJP wears a plaid, tulle, and lace Alexander McQueen dress to the Costume Institute's Gala in 2006.

Getty Images
This metallic dress was worn to the New York City premiere of Sex and the City in 2008.

Getty Images
SJP wears a black body-con dress with white heeled boots to the 2008 MTV Movie Awards.

Getty Images
This white ball gown created a romantic look on the red carpet at the 2009 Academy Awards.

Getty Images
SJP wears a short, ruffled black dress before accepting an award at the 2010 ShoWest awards ceremony.

Getty Images
SJP truly brought this pleated dress to life on the red carpet at the 2010 MET Gala.

Getty Images
SJP wears a pastel yellow Chanel couture dress with a wrist full of bangles to the 2010 Academy Awards.

Getty Images
A strapless black gown with a matching headpiece had all eyes on SJP at the Sex and the City 2 premiere in London in 2010.

Getty Images
SJP looking lovely in a form-fitting sequin gown at the 2011 Costume Institute Gala.

Getty Images
In 2012 at the amfAR gala wearing a feminine pink dress paired with white gloves and a black leather jacket, SJP creates a feminine look with an edge.

Getty Images
On the red carpet at the 2012 Costume Institute Gala, SJP wears a feminine, floral gown.

Getty Images
SJP wore a white and pink gown to the New York City Ballet's 2013 fall gala.

Getty Images
On the red carpet at the 2013 Costume Institute Gala wearing a ball gown paired with plaid over-the-knee boots and a show-stopping headdress.

Getty Images
In a Mary Katrantzou gown with an intricate pattern while arriving at the ballet in New York City.

Getty Images
SJP wore this black and white Oscar de la Renta gown to the 2014 Costume Institute Gala in New York City, accessorizing with long gloves and simple jewelry.

Getty Images
This was a look to remember at the 2015 MET Gala. SJP caught everyone's attention with a red headdress that spurred many Internet memes.

Getty Images
A sparkling moment on the red carpet as SJP attends the New York City Ballet's Fall Gala in 2015.

Getty Images
On the red carpet of the 2016 Benefit Fashion Show for Parsons, SJP wears a two-toned dress paired with silver accessories.

Getty Images
For the New York City premiere of Divorce in 2016, SJP wears a purple lace dress with a crystal-coated bodice.

Getty Images
This color-blocked look was worn to the 2016 New York City Ballet's Fall Gala.

Getty Images
A Princess Leia inspired look for the 2017 Golden Globes in Hollywood.

Getty Images
SJP wore this bronze, metallic dress to the People's Choice Awards this past January.

Getty Images