The Summer Fridays Jet Lag Mask Is the 10-Minute Answer to Your Tired Spring Skin
And it only takes 10 minutes.
---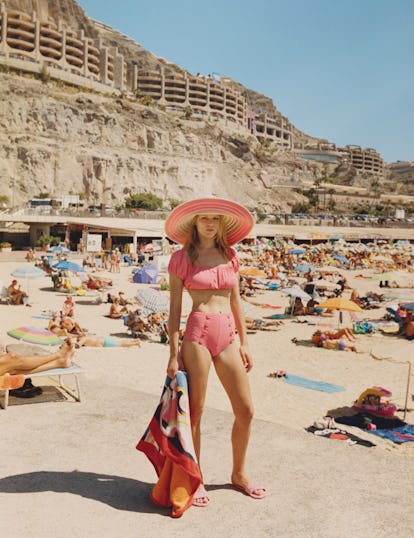 Photographed and styled by Venetia Scott
While spring has just set in, the words "summer fridays" can't help but evoke the warm beach afternoons to come. However, thanks to bloggers-turned-skincare gurus Marianna Hewitt of Life With Me and Lauren Gores Ireland of You & Lu, summer has arrived a little sooner than expected. Taking inspiration from the seasonal tradition for their first skincare line, Summer Fridays, Hewitt and Ireland have created a holy grail product worthy of staying on your vanity year round. "There's a really specific feeling you get when you think of a summer Friday, and we really wanted to bottle up that feeling so you could have it all year round," Ireland explained. The 10-minute Jet Lag Mask ($48, sephora.com) embodies just that.
With years of experience blogging and interacting with their readers, it was their followers who ultimately helped to create their first hero product. "Being bloggers, we get sent boxes every single day and we are consistently trying new products," said Hewitt. "After opening so many products, we always felt like something kind of fell flat. It was a great mask, but maybe it wasn't clean, or effective, or they tested on animals. So we took all of those things that we knew were missing and because every time we would post something, it wasn't always what people were looking for, so we used that as a massive focus group of over a million people. It might seem like an overnight success, but it really was the years of us being influencers. That education we used to create the perfect product."
Ireland, who was pregnant during the nearly two-year process—which resulted in a formulation with key ingredients of chestnut extract, vitamins C and B3, and green tea—said, "It was especially important for us for the ingredients to be clean and for them to work." Hewitt added, "[Chestnut extract] lightly exfoliates your skin, and by doing that it allows all the vitamin C, vitamin B3, and green tea to really soak in and work its magic."
When it comes to their own on-the-go lifestyle, Hewitt and Ireland have mastered what it takes to offset tired-looking and dehydrated skin. For Hewitt, it's all about hydration: "Drinking water sounds like a give in, and not only is it good for your skin, but it really helps from dehydration from the plane. I feel less tired because I'm actually really hydrated. I also have my full skincare travel routine with me at all times, having doubles of everything is super helpful."
And for Ireland, nothing beats a little pink cheek stain. "Water is huge; echinacea tea I always travel with, especially if you are flying it keeps you super healthy," she said. "And for skin specifically, I always travel with RMS Lip2Cheek tint because it's super clean makeup and it kind of makes you feel a little prettier when you get off the plane."
And when it comes to the ultimate jetsetter lifestyle, keeping this 10 minute miracle mask on hand should be a no-brainer. "That's the great thing about this mask is that you can wear it in public," Ireland said. "Because it goes on and it's clear so you can wear it on the plane, in your car—you can literally wear it anywhere."
Kim Kardashian's Smokey Blue Eyes, Lady Gaga's Cat Eye and the Best Beauty Moments Of the Week
Model Shanina Shaik makes the case for clean skin, a sleek top knot and a effortlessly sun-kissed skin.

@shaninamshaik
Actress Priyanka Chopra is all about her 70's inspired voluminous curls and full brows.

@priyankachopra
For singer Rihanna, it's all about messy middle parted curls and a magenta smokey eye.

@badgalriri
Supermodel Gisele Bündchen makes the case sun-kissed skin and a sleek, tousled high ponytail.

@gisele
Actress Rowan Blanchard proves that red lips and rose pink eyeshadow go hand in hand.

@rowanblanchard
Model friends Rosie Huntington-Whiteley and Lily Aldridge are identical in their radiantly glowing skin with sleek, low buns.

@rosiehw
Model Kaia Gerber goes incognito with her blunt platinum blonde wig and pale red lip.

@kaiagerber
Lady Gaga wears her exaggerated cat eye with full brows and a red stained lip.

@ladygaga
Victoria's Secret Angel Romee Strijd pairs her long mermaid waves with a natural pale pink lip.

@romeestrijd
Kim Kardashian wears her ultra sleek twisted ponytail with a vibrantly navy blue smokey eye.

@kimkardashian