Mia Moretti and Margot of The Dolls Have Created Your Ultimate Summer Playlist
Filled with plenty of Katy Perry, DJ Khaled, and, of course, "Despacito."
---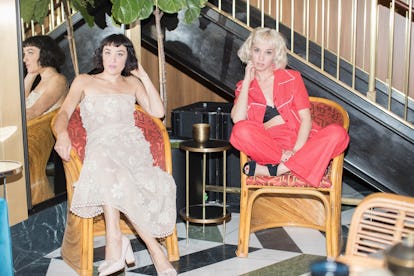 Visuals by Pierre for Henry Hall
There are a few tell-tale signs that summer has arrived. Rosé stars flowing, rooftops become the only acceptable place to be, and jorts completely infiltrate the sartorial landscape.
Then there is the matter of soundtrack. It can be difficult to capture the spirit of the season: something upbeat, but not too upbeat; chill but not too chill. It is a delicate balance; it's no wonder Song of the Summer is such a hotly contested title. Luckily, Mia Moretti and Margot, the two very stylish musicians behind The Dolls, have created a summer playlist that checks all the right boxes.
The duo certainly knows what they are talking about when it comes to seasonal tunes. Already this summer, Moretti has DJ'ed at events for Washington Pride and New York's newest hotspot, Public, while together they performed at the Met Ball afterparty, per the request of BFF Katy Perry. Last night, the duo kicked off the inaugural "Tuesdays at Henry Hall," a new music series held at the venue of the same name, located in Hudson Yards. It was there that they debuted the perfectly curated playlist, which Moretti describes as, "Hot. Hot in temperature." "Actually, burning," added Margot.
The 16 song playlist is an eclectic group of songs. Perry makes an appearance three times—we did say they were BFF's—including the song "Tsunami," which is featured on her new album, Witness, and Moretti helped to co-write. There are a few unexpected throwbacks from artists like Santana and Diana Ross. And yes, "Despacito" is on it. As for where best to blast your speakers with the songs? Per Moretti, "Playing out of the car and the car is parked on the street, in like a parking lot."
Here, the Dolls' summer playlist:
"Summer in the City" by The Lovin' Spoonful
"Feels" by Calvin Harris, featuring Pharrell Williams, Katy Perry, and Big Sean
"Good Vibe" by Strobe! featuring Nyla
"Chosen" by Omo Frenchie, featuring Abra Cadabra
"Tsunami" by Katy Perry
"One Night" by Lil Yachty
"While We're Young" by Jhené Aiko
"Know No Better" by Major Lazer, featuring Travis Scott, Quavo, and Camila Cabello
"Power" by Katy Perry
"Wild Thoughts" by DJ Khaled, featuring Rihanna and Bryson Tiller
"Black Magic Woman/Gypsy Queen" by Santana
"Despacito (Remix)" by Luis Fonsi, featuring Justin Bieber
"I Like It Like That" by Pete Rodriguez
"Feel It Still" by Portugal. The Man
"Soulful Strut" by Grover Washington Jr.
"The Boss" by Diana Ross
Related: A 7-Year-Old Interviews Katy Perry