How Taraji P. Henson Transformed Into a Contract Killer in Proud Mary
The actress's go-to hairstylist tells all.
---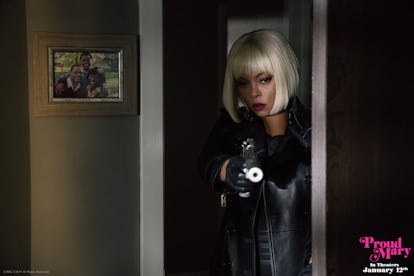 Dana Starbard
Taraji P. Henson has played a wide range of strong characters on screen–from the fierce, quick-witted, and oft foul-mouthed Cookie Lyon on the hit television show Empire to the groundbreaking mathematician Katherine Johnson in Hidden Figures. But she's never starred in an action film, until now. Her latest role, in the action film Proud Mary., showcases Henson as a contract killer for a Boston-based organized crime family.
"We haven't really had a black hit woman in this major way since Pam Grier," says Tym Wallace, who was Henson's hairstylist for the film and regularly works with the actress for red carpet appearances.
Naturally, an action film presented a wide range of challenges for the hairstylist–it's difficult to keep wigs in place while blowing up a car, for example–but Wallace felt the film is an important one in 2018. "With everything that's going on with women in Hollywood speaking up about sexual harassment, it's so important to have roles out there that feature strong women," he adds. "Badasses. To make women feel like, 'you know what? Let me go out here and get my life back. Let me stand up for myself and fight.' There's nothing wrong with a fight for a good cause."
Here, Wallace talks about his relationship with Henson, how her hairstyles for Proud Mary came together with just three days prep time, what they're planning for awards season, and more.
You work with Taraji both on and off screen. What is that like?
It's so great. She's so amazing, fun, and easy. She understands my craft and what she is hiring me to do. She allows me to do my work and be a creative with no worries. It's an amazing feeling to have someone trust your gift.
How is working on a film different from working on a red carpet look or an editorial?
I like to bring the character to life through hair. It's so different from doing the red carpet or editorial because you need to seek out a lot of inspiration photos. But for me, in terms of film, you're responsible for looking at the character's lifestyle. She's a hit woman, so I had to look at what a hit woman and contract killer would wear and how they might look. There has to be subtlety in their line of work because they move in silence, so I wanted to keep a certain simplicity. Her looks are very clean and chic, sometimes understated. Think of how you've often seen people in the secret service portrayed. There's a uniform and you often wouldn't even recognize them. But of course, she looks good! There are moments where we played it up and gave her a bit more glam, but for the most part, the hair is sleek.
I really just played into who the character was because it all has to make sense. If she's a contract killer, I can't give her this elaborate hairstyle, that's 22 inches long and wavy. So in creating the looks, I had to go through Mary's thought process. Would she have time to have fabulous hair? Would she want to be over the top at certain moments? I had to take those things into consideration and then go from there. We do have a moment when she's in this really fun, platinum blonde bob. That, we both love. There is some texture and waves, as well as a few natural moments.
When did you first hear about Proud Mary?
Once [Taraji P. Henson] finalized her role in it, she called me and said, "We're doing a movie." I was like, "Ok!" That's kind of how it goes with us. We're actually about to go into production again in the next couple of months. She told me, "We're doing two movies…again". And I was like…"Ok!" So then, we just sit and wait for everyone to call and get all the details hammered out. Taraji told me she was doing an action movie and asked me if I was down. And of course I was.
How long did you have to come up with the hairstyles?
I didn't have much time at all. I got the script about three days before we went into filming.
Wow. So you had to get everything together really fast.
Yes! I read the script on my flight to the set. And based on the trailer, you are going to be completely thrown off by the full story. That's what I'm so excited about because the story takes a real twist. As I kept reading the script, I thought, "Wow, this is going to surprise everyone."
Filming can be damaging to an actor's hair. How did you prep Taraji's hair before shooting?
She's a hair girl. She does amazing upkeep of her natural hair, so maintenance throughout filming was no problem. Of course, we did some color retouching and kept the ends clean and trimmed. But her hair is really healthy and it was all about the wigs during filming. I have a really good braider in Chicago who just braids her down for the base. And then we re-braided about three weeks in.
Were there any specific products or brands that you used on Taraji's hair while filming?
Creme of Nature was the dominant brand we used throughout filming.
She does a lot of action scenes in the film. Did you have to take more steps in securing her wigs?
Yes, especially because Taraji had an undercut. Her hair was shaved underneath so I literally had to glue the back of the wigs down. Usually, I pin them down, but there was no hair to secure the pins in. The audio guy on this production had a monitor app, which I was able to download onto my phone. So I wag glued to my phone and jumping in for almost every scene because she was throwing someone over her shoulder and tumbling out of cars.
Taraji always plays with her hairstyles on the red carpet. Do you have anything in mind for awards season this year?
She trusts me, but she also knows this is the time for us to fly together. I have told her that I want to play a lot with natural texture this year for the shows.
Taraji P. Henson Isn't Afraid of Bold and Beautiful Hair and Makeup
Not everyone can pull off a faux flower hair accessory, but in 2001 (with a few baby braids and a golden smoky eye), Henson did just that.

Getty Images
Not too light, not too dark. The actress demonstrated the perfect hue for highlights at the 2005 premiere of her film, "Hustle & Flow."

Getty Images
The star donned another pretty plait at the 2006 TNT Black Movie Awards, this time wrapped into a formal updo. With silver eye shadow and flawless skin, Henson proves the best way to make a beauty statement is with one or two strong elements and little else.

Getty Images
Henson can do ladylike, too—like this curled short bob and bright red lip at the "Frankie and Alice" L.A. premiere.

Getty Images
The high pony has taken a break. The top knot is done. Perhaps now models, It girls, and actresses should resurrect the flirty side bun, à la TPH in 2011?

Getty Images
Henson wears her top bun with full bangs and luminous skin at the Sundance Institute Alumni Event in 2012.

Getty Images
Henson's daring tendencies aren't limited to her film choices, as this purple lipstick-and-eye shadow combination proves.

Getty Images
Henson paired a pink lip with an emerald green eye at the 2013 365 Black Awards.

Getty Images
Wearing relaxed curls and a magenta pink lip, Henson attended the Think Like A Man Too photo call in 2014.

Getty Images
The actress doesn't need dramatic makeup to make a statement. With simple glowing skin and subtle fake lashes, Henson glowed in 2014.

Getty Images
With sleek side bangs and colorful smoky eye, Henson looked elegant at the BET Celebration of Gospel in 2014.

Getty Images
Henson stunned with a long fishtail braid, lined eyes, and black and red nail art at the 2015 NAACP Image Awards. That flushed, glowing skin? Most likely a side effect of the Entertainer of the Year Award she took home that night.

Getty Images
The actress smoldered at the 2015 CFDA Awards—she even made our top 10 list "for her sultry everything."

Getty Images
With a half bun, side braids, long, loose curls, and a golden eye at Spike TV's Guys Choice 2015 Awards, Henson proves she follows no one's beauty rules but her own.

Getty Images
The actress wore her hair in bouncy ringlets at the VH1 Big In 2015 event.

Getty Images
Henson took home the award for Best Performance by an Actress in a Television Series – Drama at the Golden Globe awards in 2016–and won our award for best haircut at the same time.

WireImage/Getty Images
At the Women In Film 2016 Crystal + Lucy Awards, Henson wore her hair in a sleek ponytail.

Getty Images
Henson attended a screening of Hidden Figures with her hair in a short, straight bob.

Getty Images
Henson wore her natural curls with sun-kissed skin at the 68th Annual Primetime Emmy Awards in 2016.

Getty Images
Henson wore her hair in an angular bob with a purple smoky eye as she celebrates her win at the 23rd Annual Screen Actors Guild Awards for Hidden Figures in 2017.

Getty Images
Taraji P. Henson at the 2017 Academy Awards.

Kevin Mazur/Getty Images