Taron Egerton's Met Gala 2019 Look is a Preview of the Rocketman Red Carpet
"There's definitely a crossover between camp and Elton John."
---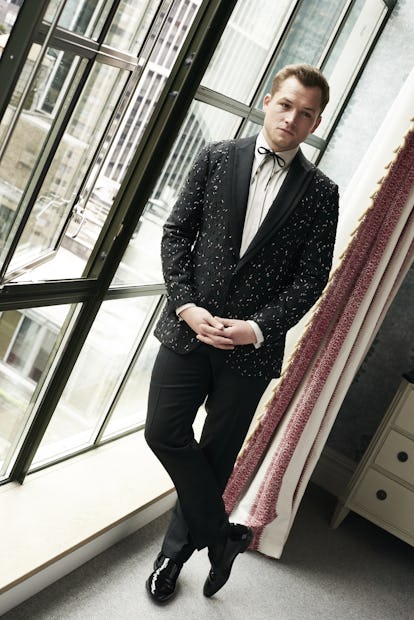 If you're still scrambling to understand the concept of camp, the theme of the 2019 Met Gala, you're not alone. But the same can't be said for Taron Egerton, who sounded nonplussed at the idea that he'd be unfamiliar with the so-called "sensibility." "I think everyone knows what camp is," he said matter-of-factly on Sunday night, less than 24 hours ago before his making his first-ever appearance on the gala's red carpet in custom Salvatore Ferragamo, which has him equally unfazed.
"You know, in my DNA, I'm a theater person, so I'm no stranger to the world of being exuberant and extroverted." He laughed. "And I don't actually have to do much."
After all, as he pointed out, "There's definitely a crossover between the world of camp and the world of Elton John." And, it just so happens, he's been immersed in the latter for more than a year now, thanks to his upcoming lead role in Rocketman, the "epic musical fantasy" biopic of the singer that hits theaters later this month. The experience, Egerton said, has changed him forever—particularly when it comes to his style. "I think I'm being more expressive than I have been in the past," he explained. "It's kind of like an elastic band—once it's been stretched so far, you don't really come back to the original shape. I've worn such outlandish, wild, outrageous, colorful, fantastic things in the movie that it sort of feels like part of me now."
The Rocketman premieres and their accompanying red carpets are fast approaching, so for Egerton, the timing of the Met Gala couldn't be better: The look which Salvatore Ferragamo's creative director Paul Andrew custom made for him to wear in on Monday is essentially a precursor of what's to come. "It's the first time I've stepped on a carpet in something that's less conventional, and I love that about it," he said. "[I tend to] play it a little safe, but I'm actually I'm somebody who's quite exuberant, so I've been thinking that perhaps that should be reflected more in my dress sense. That's one of my aims for the Rocketman press tour—to be a bit more expressive."
His Met Gala look, is still definitely a tuxedo, but Andrew snuck quite a few details in there, too: His jacket is embroidered with pink and black beads that "catch the light very, very beautifully," and his bowtie isn't so much a bowtie, but a piece of leather tied into a bow around his neck. "I think it's a really clever balance of exuberant and camp, but also quite elegant in a quite masculine way," he said, summing it up as "a thing of beauty" for the first of several times.
Clearly, masculinity has been on Egerton's mind as of late, which is just another reason why he couldn't be happier with the timing of this year's theme. "Traditional ideas about identity are becoming less and less important, and I think that's a wonderful, gorgeous thing," he said passionately. "Things are kind of shifting. Kind of traditional ideas about archetypes and masculinity and femininity are less important and constantly shifting and blurring, and I think that's why it's a wonderful time to celebrate camp—to celebrate expressing yourself and pushing the envelope a bit without fear of reprisal or judgment."
Egerton is still in the early stages of embracing that IRL, but he's certainly already crossed it off on-screen, even if we haven't seen it all just yet. "There's much more where that came from," Egerton promised of the rhinestone-covered baseball uniform he's wearing in the movie's new music video—and of his upcoming red carpet looks: "We're planning on something quite special for Cannes and the London premiere."
Related: How Gay Will Rocketman, the Elton John Fantasy Biopic, Be?
The Campiest Red Carpet Looks of All Time Ahead of the 2019 Met Gala
Björk's sensibilities as a whole can be better classified as "avant garde" (she's a serious artist and musician, after all), but when Björk showed up to the 73rd Academy Awards after being nominated for best song from her film *Dancer in the Dark* (though, as many would argue, snubbed in the best actress category) in a gown meant to resemble a swan, it was a moment of pure camp. The dress alone, designed by Marjan Pejoski, would have been camp just hanging on a rack, but a figure like Björk wearing it to, of all places, the Oscars—in a year that was dominated by the film *Gladiator*—truly just kicked it into another level. It also provides an important distinction in how to appreciate something from a camp point of view. Camp is not the "Oh, my God, what the hell is that weird dress she is wearing?" jokes that followed. Camp is thinking the moment was so bizarre and perfect that you can't imagine Björk wearing anything else for the moment, and regarding her as a hero all these years later for having done so.

Wally Skalij
The actual Metropolitan Museum of Art exhibit will attempt to draw comparisons to the over-the-top stylings of Louis XIV of France, aka the Sun King, but Louis himself was not quite was camp as Elton John dressing up as him for his notoriously glamorous 50th birthday party.

Dave Benett
Sure, there's something inherently camp in constructing a matching gown and tuxedo out of denim, but this could have easily been dismissed as Worst Dress list fodder at the time. And yet, Britney Spears and Justin Timberlake's 2001 American Music Awards look has only grown campier with time.

Frank Trapper
No roundup of recent camp fashion would be complete without a nod to *RuPaul's Drag Race*, a show that runs on so many levels and layers of camp that not even Susan Sontag herself could attempt to parse it. But for our money there's been no more savvy example of camp fashion (at least of the intentional kind) than Detox's look from the Season 5 finale. Not only does it succeed on the "things-being-what-they-are-not" level of camp by bringing black-and-white photography to light, but Detox also recalls a classic film noir femme fatale archetype, and, just for good measure, her suit is actually vintage Thierry Mugler.

Valerie Macon
Mamie Van Doren started her acting career in 1951, and knowingly patterned her public persona after Marilyn Monroe (along with Monroe and Jayne Mansfield, some consider Van Doren as part of a group known as the "Three M's"). Even into her eighties she has never decided to change it up, and still struts the red carpet like a '50s bombshell.

Steve W. Grayson
Elena Lenina is a Russian-born, France-based media personality whose leading contribution to world culture appears to be showing up on the Cannes Film Festival red carpet year after year in a series of outlandish gowns topped off by what can only be called "hair sculptures." This is camp.

George Pimentel
Only someone with as big a spirit, voice, and personality can pull off the big stylistic choices that Cuban singer Celia Cruz made in both her onstage wardrobe and her music.

SGranitz
Cher would actually take home the best actress trophy the year after this Oscars, but her Bob Mackie gown from 1986 remains not only her most famous Oscar dress but one of her most famous outfits of all time. Being the most memorable thing Cher has ever worn? That's inherently camp.

Bettmann
The red carpet exists so celebrities can be photographed to generate publicity for their careers, and their outfits are often chosen carefully to garner the right kind of attention. Why not just turn the whole thing on its head by wearing an outfit that actually outright promotes your upcoming project?

KMazur
Sontag references the concept of the androgyne as an example of classic camp, and though in today's time androgynous fashion's subtext is meant to convey things more serious than frivolous, it can be still be pulled off with a sense of stylish fun. While he has some notable competition, put Olly Alexander of British pop band Years & Years as one of current masters of this particular species of red carpet moment.

Karwai Tang
Meanwhile, Billy Porter has mastered a more mature and sophisticated take on the idea, and if every man attending the Met Gala on Monday didn't reach out to him for some pointers they fail to at their own risk.

Axelle/Bauer-Griffin
Phoebe Price's dress isn't camp on its own, but her whole thing here is. An actress with a short IMDb page, Price took advantage of the fact that the post-Paris Hilton Internet gave everyone full access to every picture taken on any red carpet and managed to show up on just about any red carpet that would have her (there are currently 5,333 photos of Price on Getty, more than many more well-known celebrities). The fact that she managed to play at the idea of being an in-demand VIP without technically being one made her something of an underground camp icon during the heyday of "Oh no they didn't" and "Go fug yourself."

Frazer Harrison
Lady Gaga is rightfully hosting Monday's Met Gala, but you can't talk about pop stars successfully burnishing their image with the help of outré fashion without starting with Grace Jones.

Chris Walter
Yes, it's a backwards tuxedo that hints at the androgyne and being slightly off, two tenets of camp, but what truly made this moment camp was Dion's commitment to posing in it on the red carpet backwards. It would take a few more decades for Dion to let her full fashion freak flag fly, but frankly we should have seen it coming.

Jim Smeal
The New York City nightlife icon has patterned herself after the campy icons of classic cinema, and she hits it out of the park every time.

Gisela Schober
Most celebrities' looks for Monday's Met Gala have long been chosen, but imagine for a second you're a celebrity stylist trying to make a last minute decision for your client that hints at the theme but isn't too risky. You couldn't go wrong with something like this Gucci dress that Nicole Kidman wore to the 2017 SAG awards. Parrot heads as statement shoulders is always going to be a camp.

Jon Kopaloff
…or perhaps the Moschino butterfly dress Zendaya wore.

Don Arnold
But in reality, you're either camp or your not, and sometimes it's best not to force it.

Jim Smeal