Paul Andrew is Making Salvatore Ferragamo Cool Again
What he did for the house's shoes, he's now doing for its clothes.
---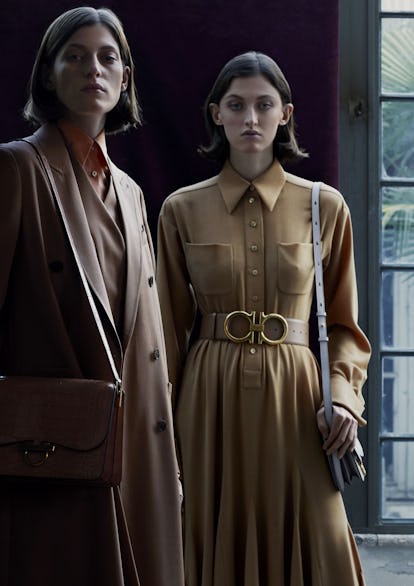 Photograph by Julia Hetta; Styled by Mattias Karlsson
It's the week before his first runway show as the creative director of women's collections at Salvatore Ferragamo, and Paul Andrew is sitting calmly in the brightly lit showroom of the Florentine company's headquarters in Milan, overseeing the casting. When he finds a model he likes, he asks his stylist, Jodie Barnes, to "throw a poncho on her" so he can see how she moves. There is an array to choose from, both long and mid-length, made in the softest suede or in heavy cotton canvas lined with wild printed silks. The chosen few stomp in them, their hemlines swishing in tune to Paula Abdul's "Forever Your Girl," part of a playlist Andrew put together of the most uncool hits of the '80s. With apple cheeks and boyish good looks that give him the appearance of someone a decade younger, Andrew, 39, picks at his poached salmon salad as he and Barnes back-and-forth about the collection's ideal woman. "She's someone who's been up all night partying," Barnes says, "and now she's got to get up and feed the pigs. But, you know, on the estate." »
The show Andrew is so coolly orchestrating will mark not only his first foray into clothing since his fashion-school days at the Berkshire College of Art and Design, outside of London, but also Ferragamo's first combined men's and women's presentation. Andrew joined the company in 2016 as the head of women's shoes, part of a troika of designers that included Fulvio Rigoni, who oversaw women's wear, and ­Guillaume Meilland, who led Ferragamo's men's fashion and accessories. Andrew's colorful, sexy shoes were an immediate hit, as was Meilland's men's wear line, with its elegant soft tailoring, featherweight knitwear, and sumptuous leather goods that mined Ferragamo's luxurious design heritage. Rigoni's presentations, however, failed to connect, and after three seasons, Andrew was asked to take over women's wear, working closely with Meilland to create a singular vision for the brand.
"I was a little apprehensive about how it was going to work," Andrew admitted earlier that day over breakfast at Milan's Bulgari Hotel, his home base when he's not in Florence or New York, where he moved from his native England nearly 20 years ago. "But Guillaume has been amazing. I've been looking at some of the silhouettes he created, both for the outerwear and some of the trousers. We've done almost every fitting together." In fact, since Andrew's promotion, the two designers have met once every three weeks to brainstorm and share inspiration. They will also work together to create ad campaigns.
At the afternoon casting, Meilland is there to select the male models. "Even before thinking about garments," he explains, "we had the colors in scraps and pieces of fabrics." Both the men's and women's collections are hanging on racks that line the long room. Andrew's work is inspired by Hollywood legends like Marlene Dietrich and Katharine Hepburn, who wore Salvatore Ferragamo's shoes in their heyday, and by two oft-watched seasons of The Crown. Aside from the swishy ponchos, there are men's wear–inspired suits; ostrich-skin knee-high boots; beautiful silk chiffon blouses; and modest, mid-length shirtdresses; all in a palette of cobalt, parakeet green, ocher, and a shade of lipstick red that Andrew pulled from the Uffizi Gallery's collection of Bronzino paintings.
Meilland's men's wear is literally cut from the same cloth—he used the same shirting, leathers, and silk prints as Andrew. His long coats complement the fluidity and practicality of Andrew's outerwear; Meilland's use of solids, with the occasional jolt of print, jibes with Andrew's color-blocking approach. There are shared workwear details, like the black men's leather painter pants that Andrew turned into an acid-green ostrich-skin skirt. Andrew and Meilland asked the atelier workers to switch roles: Shirtmakers were given outerwear, "to get real softness in the tailoring," Meilland explains, and tailors took on shirts, whip-stitching shoulders for crispness and a bit of flash. Days later, at the close of their show at the Borsa Italiana, the two designers present a united front: When they come out to take their bow, their elbows are linked and their victory jog turns into skipping. The encouraging press reaction the following day would give Ferragamo's executives reason to do the same.
Andrew's appointment last year came as a surprise because he was known primarily for his namesake shoe company, which he launched in 2013, and which he will continue to oversee. Like his clothes, the shoes he designs for Ferragamo and his own label are clean, striking, and wearable. He's always loved strong shapes and bold color, including rainbow-bright exotic skins and prints. "I have all my old sketchbooks," he says of his student work. "My hand has changed, but what appealed to me then still resonates now: I was never into overtly complicated design." Still, he cringes a bit when he thinks back to his graduation collection. "I had no idea I was doing it, but it was sort of Paul Poiret–inspired, all in gold velvet." It couldn't have been that bad: Farfetch's Yasmin Sewell bought everything for her shop, Yasmin Cho, then an influential hub for London's cool girls. Though Andrew enjoyed designing the clothes, he acknowledges that "the thousands of hours I spent beading those gold sandals established that I really loved to make shoes."
His first step in that direction, with Sewell's help, was an internship at Alexander McQueen, working on shoe design. "That was the season McQueen showed in New York, and being there gave me a real taste for the city," Andrew recalls. The problem was that Andrew's father, a former upholsterer to the queen at Windsor Castle, wasn't looking to float his son's career any longer. (Dad's workshop was attached to the family's house, and Paul did his homework there growing up, "at first thinking it was the most boring place ever, but eventually developing an appreciation for the most beautiful fabrics and trim.") He soon landed a job at Narciso Rodriguez to set up the company's shoe business, and produced needle-thin, sky-high stilettos that somehow managed not to pinch. ("They were too underslung, those heels," Andrew recalls, but he's being hard on himself. Twenty years and one foot surgery later, I still have a pair in circulation.) Then came shoes for Calvin Klein, and shoes and bags for Donna Karan, where Andrew worked for 13 years, his last three as a consultant so that he could set up his own company. "Donna taught me a lot about the importance of great fit," he says.
Shortly after he started his business, Andrew commissioned a study with 500 women from all over the world, "to establish the perfect fit for this moment," he says. "People wear sneakers so much now that the architecture of the foot has really changed. Italian shoemakers often use lasts that are 30 years old, but feet today have become more spread out." Andrew designed a pad made out of memory foam that now goes in all his shoes, both under Ferragamo's name and his own.
Fit has to be a priority for anyone who works for Ferragamo, whose fiercely guarded reputation for quality, independent of design, rests on twin poles of comfort and durability. Salvatore Ferragamo wasn't just the most visionary designer of women's shoes in the 20th century, inventing the cork wedge, pushing stiletto heels to unseen new heights, and combining colors and materials with consummate ingenuity. He was also an astonishing technical innovator. From the earliest days of his company, founded in Hollywood in 1923 and relocated to Florence in 1927, Ferragamo began developing what would amount to more than 350 patents. "Salvatore was pushing boundaries unlike anyone at that time," says Andrew. "He was thinking so outside the box. I'm not comparing myself to Salvatore, that's for sure! But I do like the idea of pushing barriers, too."
To do so, he started at the extensive Ferragamo archives, which house more than 15,000 models in the family's company headquarters at the medieval Palazzo Spini Feroni, in central Florence. There he discovered a pump heel shaped like a flower. "I asked myself, How would Salvatore make that modern?" Andrew says. "Why don't I send it to a car factory and have them galvanize it with the same technique they'd use for an Italian sports car? What we got back was a super-lightweight and durable shoe, with the most incredible metallic golden finish." It has since become one of the company's top sellers, and hopefully will develop into as much of a signature as the house's famous buckle-style Gancini motif.
Of course, it can't be easy taking the design reins at a house freighted with such a deep family culture and intimidating heritage. "When ­Salvatore died, in 1960, my grandmother was 38 and by herself," says James Ferragamo, 46, who oversees Ferragamo's leather products. "She asked herself if she should sell the business, as she had six kids, ranging in age from my aunt Fiamma, who was 19, to my uncle Massimo, who had just turned 3." Fiamma and her next youngest sister, Giovanna, 17 at the time of Salvatore's death, were already working at the company—Fiamma on shoes, and Giovanna creating the house's first women's ready-to-wear line. (The other sister, Fulvia, would eventually design accessories.) "She needed to find a way to get all six of her kids involved in the business, so they felt like it was a part of them and they weren't fighting," James says. When her three sons came of age, she assigned each one management duties of different markets across the world.
Giovanna was 15 when Salvatore first tasked her to create clothing to complement his shoes, setting up an approachably elegant design DNA that Andrew has done well to follow. Giovanna knew her father's wares intimately, having visited his atelier in the palazzo since she was 10. "My father used to make small versions of his shoes for me and Fiamma," Giovanna says. "They were so fancy and particular, and it was terrible in school because none of the other girls had shoes like that. I'd hide my feet under the chair!" As she got older, Giovanna realized how lucky she was. Salvatore sent her to fashion school in the afternoons, after her secondary school let out each day. "I started to put together some samples in a very easy way," she says. "Whenever I had some ideas, I had a dressmaker come in. I worked in a little office in the palazzo just beside my father's, and he'd pop in every now and again." He helped her stage the company's first fashion show, at the Plaza hotel, in 1958. "It was sportswear, inspired by summertime, with patchwork colors," she says. Eventually, Ferragamo opened a freestanding store in Beverly Hills, where Giovanna's designs took off with actresses and other L.A. women who liked her easy direction. In the past few years, Giovanna has stepped back, "though I never leave any of our designers alone," she says with a throaty laugh. "What we sell is always under the name Salvatore Ferragamo, and they've got to respect that!"
Andrew's debut certainly acknowledged the brand's heritage of sporty, grown-up clothes that are luxurious but not stodgy, sophisticated but not tricky. "I wasn't interested in creating a boring canvas to showcase shoes," Andrew says of his approach—though he did make a point of cutting his trousers at the ankle so as not to hide his immensely covetable footwear. "It was more about introducing Ferragamo to a new generation, by taking the things Salvatore created and making them cool. We're in a moment of empowerment for women. I like that there's a strength to what we've made."