5 Minutes With Tata Harper
The skincare entrepreneur answers our questions.
---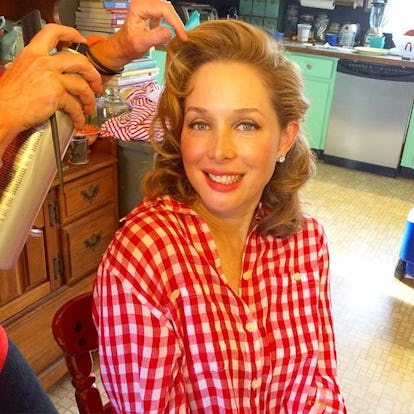 This past weekend, Tata Harper hosted a technology-meets-naturals summit at the farm she shares with her husband in Cornwall, Vermont. At the event, the organic skincare entrepreneur talked about her upcoming product launches, best (and worst) beauty memories, and how she juggles it all. Read more:
What's your 5-minute routine? I use my [Tata Harper] Regenerating Cleanser for dry skin, then I exfoliate my neck and layer my Resurfacing Mask right on top. If I'm going to a party or I'm traveling a lot and feel dehydrated, that is my thing. I love the idea of fresh skin. A lot of women deal with their skin by covering it up with a lot of makeup. I say, be heavy on the skin care side instead! Eye masks, serums, that's what I'm into. Makeup? Not so much.
Biggest beauty blunder: When I was 18, I wanted to be a redhead, so I had my hair bleached then dyed bright red. It was the most horrible mistake I ever made. I looked horrendous, and I couldn't get it fixed for over a month since it was so damaged.
Earliest beauty memory: My family is Latin and Latin women are all about pampering themselves, so my grandmother hosted a beauty party every Saturday. We were super close. I'd help her prepare masks and scrubs, then my relatives would come over—my aunts, my cousins, my mom—and we'd spend the whole morning doing stuff. She'd bring in a manicurist, and sometimes a hairdresser would come to do our hair. She loved bringing the family together.
Beauty pet peeve: When people don't exfoliate, it disturbs me. When I'm in stores with customers and their skin has no glow, I'm like, "Nothing is penetrating because of all that built up dead skin!"
What is your current obsession? Deepak Chopra meditation sessions that I download on my iPhone. I've been doing them for a year, and I just keep downloading more, because they help so much with stress reduction, living in the present and calming down when there's a lot going on. They've taught me how to disconnect a little bit and balance things better. I also listen to his audiobooks. When I'm traveling for business, everything is rushing and stressful, but at the airport, his voice will be in my headphones, and it's made the whole experience very pleasant. My mom says, "You're secretly in love with Deepak Chopra."
How to Get Camera-Ready Skin